Looking for a new Android phone but not sure whether to go for the latest handset or an older model? Here, we'll show you the key differences so you can make the right choice.
Android phones are getting more powerful than ever before. Gone are the days of waiting till you're within reach of a laptop to get the bulk of your work done. Now, many people own phones that are even better at handling multiple tasks than their PC.
So, is it worth getting a brand-new cutting-edge smartphone, or choosing a solid handset that was released only a couple of years ago? Read on to find out more.
Samsung Galaxy Note 9 vs Samsung S20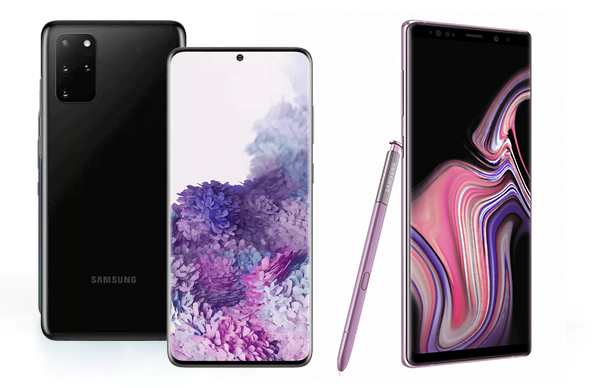 Samsung Galaxy Note 9
The Samsung Galaxy Note 9 was made for effortless productivity on the go when it was released in late 2018. Boasting a large 6.4-inch Quad HD+ Super AMOLED screen, it still delivers crystal clear detail and vibrant colours that rival any phone today.
It also has an octa-core processor and 6 GB RAM. So, it'll run at full speed no matter how many apps are open. Plus, you can keep all your files, movies and photos without ever running out of space with 1 TB storage.
The Samsung S-Pen makes it easy to work on the move. You can take notes on your screen just like a notepad and pen, and it'll even transcribe your handwriting into text. And when you're done, just pop the pen back into the slot.
A full day of browsing is a walk in the park for the Note 9's 4000mAh battery, so you can leave your charger at home and still browse however long you like.
Samsung Galaxy S20
Fast forward to 2020, and the Galaxy S20, S20+ and S20 Ultra 5G are Samsung's flagship handsets. While the Note 9's screen is impressively clear, the S20 models all feature a vibrant Quad HD+ Dynamic AMOLED 2X display. It even supports HDR content, making movies come to life.
Without a doubt though, the biggest leap forward is the camera. The S20 Ultra 5G has a quad rear camera featuring an incredible 108MP wide-angle lens. You can zoom in again and again and still retain crisp focus and beautiful sharpness. Though you might not get the same super-high megapixel lens in the S20 and S20+, you can still film in jaw-dropping 8K to capture every minute detail.
In terms of sheer power, the S20 has between 8GB and 12GB RAM, while the S20 Ultra 5G has an unbelievable 16GB. Even for a laptop, this is huge. So, expect apps and files to load up instantly – you won't be disappointed.
Honor 8X vs Huawei P30 Lite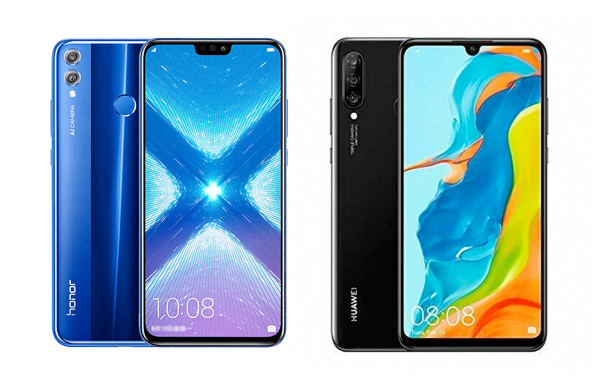 Honor 8X
Honorhave made a huge impact on mid-range smartphones by packing clever tech and high-end features into premium-feeling, affordable handsets. No phone embodies this more than the Honor 8X.
Unlike many handsets at similar prices, the 8X has an almost all-screen front, metal frame and a glass back, so the phone is sturdy and comfortable in your hand. It's also got a 6.5-inch better-than-Full HD display, so it's bigger and even more detailed than the iPhone XR.
On the back, there's a dual 20MP and 2MP camera that uses AI to capture great photos without having to tweak settings. It also makes night-time photography easier by removing handshake issues from long exposure shots. So, you can get that perfect picture any time of day.
Love mobile gaming? The Honor 8X focuses its processing power on your game whenever the mood takes you, reducing power consumption on your other apps. That means you get a near-perfect gaming experience every time, no matter how many other apps you're running.
Plus, if security is your focus, you can unlock the 8X through facial recognition. At less than £200, that's pretty remarkable.
Huawei P30 Lite
While the 8X was a game changer, the Huawei P30 Lite refines the mid-range experience even further. At 6.15-inches, it has a smaller screen, but you still get a vibrant Full HD+ resolution. You also get a much smaller 'dewdrop' notch, maxing your screen space while offering convenient selfies.
The P30 Lite has the same chipset and RAM as the Honor 8X, so you can still play online and have other apps running in the background. Plus, the curved glass back keeps the phone comfy in your hands no matter how long you play.
For those National Geographic-worthy nature shots, the P30 Lite has everything you need. A triple rear camera with a 48MP wide angle lens lets in floods of light and detail for photos that leap right off the screen. And there's a huge choice of shooting modes to experiment with like Portrait, Slow-mo, Night and 3D Panorama.
If storage is your priority, the P30 Lite delivers in droves. 128GB of built-in space makes this phone roomy enough for all your apps, games and big files. Put simply, the P30 Lite is one of the best mid-range phones for premium features and impressive value.
Nokia 6.1 vs Nokia 9 PureView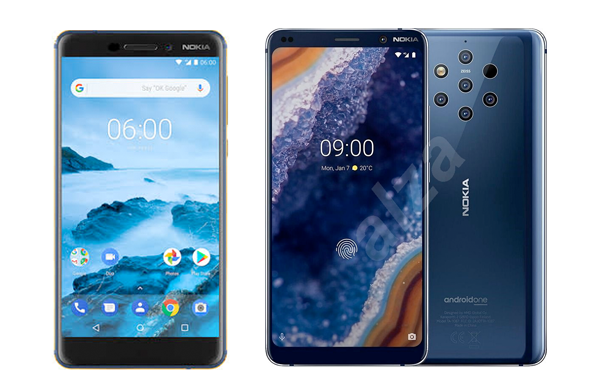 Nokia 6.1
Want to browse straight away without the quirks of a new operating system? The Nokia 6.1 runs on Android One, offering a stripped back, easy to navigate smartphone experience.
It might be cheap, but the hardware is anything but. Featuring the solid Snapdragon 630 processor and 4GB RAM, the Nokia 6.1 can flick between apps in moments.
Many phones at a similar price opt for the slower-to-charge micro-USB port, but the 6.1 will charge up to 50% in 30 minutes thanks to its USB Type-C connection and fast-charging support.
The camera can do some pretty amazing things, too. There's a 16MP camera with ZEISS optics on the back, which'll let you capture footage in 4K like many flagship phones. It may not have the AI chops to sort out your camera settings before you take the shot, but it still snaps reliably clear and perfectly sharable shots.
At 5.5-inches, the screen is quite compact by the standards of 2020. However, thanks to Gorilla Glass 3, you can rest easy knowing it's tough enough to handle bumps and drops without a screen protector. And with a rear-mounted fingerprint scanner, your data is stays as protected as the display.
Nokia 9 PureView
You've never seen a camera setup like this before. The Nokia 9 PureView has five 12MP lenses in a striking formation, and they all work together to let maximum light. The result is exceptional dynamic range in every shot, with vivid highlights and bold shadows that really add to the scene.
Just like the 6.1, the Nokia 9 PureView runs on Android One, so you can get to grips with your new phone like it's second nature. You also get two years of software updates and monthly security updates for three years, keeping your phone secure and up to date.
If box-set binging is your way to relax, this handset is made for you. With a Quad HD OLED display, even older shows look like they were made yesterday. Plus, Gorilla Glass 5 means your screen has even better protection than the Nokia 6.1.
As well as a screen upgrade, the internal hardware has been taken up a notch, too. Packed with the much faster Snapdragon 845 and 6GB RAM, the Nokia 9 PureView is a multitasker's dream. No matter what you do, this phone is more than powerful enough to handle it.