The new NHS COVID-19 app, now available to download for free in England and Wales, is the fastest way to see if you're at risk from coronavirus.
The app has a number of tools to protect you, including contact tracing, local area alerts and venue check-in. It uses proven technology from Apple and Google, designed to protect every user's privacy.
Apple and Google's automated contact-tracing technology will be used to tell people to self-isolate if their phone detects, via an anonymous Bluetooth signal, they were near someone later determined to have the virus.
Here are some of the features the app includes: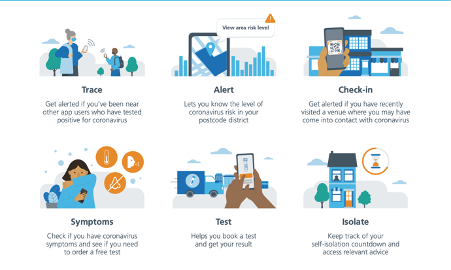 We've rounded up a few questions you may have about the app and how it works on your device. Where possible, we have linked to the official NHS Covid-19 App website to provide the definitive answer.
Will the app use up my data?
We are pleased to announce we will be 'zero rating' the data usage from this app to ensure that your allowances remain unaffected. This means that by using the app and supporting the track and trace initiative, it won't use any of your monthly data.
Is my privacy protected using the app?
The app has been designed using Google and Apple technology to use as little personal data and information as possible. All the data that could directly identify you is held on your phone and not shared anywhere else. Any data that's provided from the phone will always be made anonymous to prevent the NHS and anyone else from identifying you or others. For more information about privacy and the app, you can visit the NHS website.
Will the app impact my battery?
The NHS have advised that the app should account for less than 5% of your device's battery. If you set your phone to a 'low power' or 'battery saver' mode, head to your settings to exclude the NHS Covid-19 app to ensure it continues to work properly.
Do I need Bluetooth to be turned on at all times?
Yes. The app uses 'Bluetooth Low Energy' to work. When you download the app, you'll need to allow the 'Exposure Notifications' service from Apple and Google – that's because Bluetooth allows your app to record the random IDs of other app users who've spent time near you. This is known as 'Exposure Logging' and it'll only work while your phone's Bluetooth remains switched on.
Where can I download the app from?
If you have an iPhone head to the App Store or click the link below to download. If you have an Android device, head to the Google Play Store or click the link below.
Will the app be compatible with my device?
The following is a list of Android and Apple smartphones that have been successfully tested with the app. If your phone is listed, and you're having difficulty installing the app, please make sure you're on Android Marshmallow or iOS 13.5 or above.
If your phone is not listed, it may not have been tested yet. It may still work as long as it satisfies the Bluetooth Low Energy (BLE) 4 or above and Android Marshmallow (v6.0) or iOS 13.5 and above.
Click below for a full list of compatible devices
iPhone 6S
iPhone 7
iPhone XS
iPhone 11Pro
Xioami MI A2
Nexus 5X
Nokia 7+
Xiaomi Redmi note 8
Samsung A6
Samsung S20
Google Pixel 3
Google Pixel 3 XL
Google Pixel 3a
Google Pixel 4 (Unlocked)
Google Pixel 4 XL (Unlocked)
Google Pixel 2
Google Pixel 2 XL
Samsung Galaxy A40
Samsung Galaxy A50
Samsung Galaxy A70
Samsung Galaxy S10
Samsung Galaxy S10+
Samsung Galaxy S10e
Samsung Galaxy A5
Samsung Galaxy S9 (Unlocked)
Samsung Galaxy S9+ (Unlocked)
Samsung Galaxy Note8 (Unlocked)
How do I check I have the latest software on my device?
The app requires you are on iOS 13.5 or above for iPhone and Android Marshmallow (v6.0) or above for Android devices.
To check your iPhone software
Settings > General > Software Update
To check your Android software
Settings > About Phone/About Device > Check > Update
Are you one of the million people in the UK who have already downloaded the NHS Track and Trace app to your phone? How are you finding it? Or if not, will you be downloading the app in the coming days/weeks? Let us know how it's working for you in the comments below (but please be respectful and mindful of others).
Disclaimer