'Tis the season for new smartphone launches, where the biggest brands in the smartphone world unveil their latest innovations. September saw Apple unveil their game-changing iPhone 13 range, and now the titans of Android, Google, have launched their two best smartphones yet. We're talking about the Pixel 6 and the Pixel 6 Pro.
There's been a lot of hype about these phones over the past few months in the run-up to their release. That's partially because they're the first smartphones to feature Google's own custom-made processor, but there are plenty of other reasons to love these smartphones.
Let's take a closer look: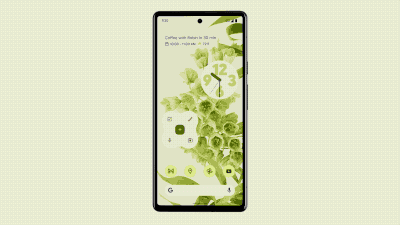 See for yourself! The latest phones in the Google Pixel family sport a radically different look to their predecessors. We love the unique 'bar' style camera module at the top, and the two-tone design above and below it is a real point of difference.
Elsewhere, the selfie camera moves on both phones to the top centre, and both the front and back are protected by super-tough Gorilla Glass Victus. That's just as well, as they may be too nice to cover up.
Google have always opted for colour palettes that buck the trend, and this time around is no different. There are three different colour options for the Google Pixel 6, and another three for the Pixel 6 Pro: Choose from Sorta Seafoam, Kinda Coral and Stormy Black with the Pixel 6, and Cloudy White, Sorta Sunny and Stormy Black for the Pro.
Whichever colour you go for, these phones are impressively stylish. And with the new Material You UI that matches your user interface with the colours of your wallpaper background, we think Google is really onto something exciting in the world of smartphone design.
What are the screens like?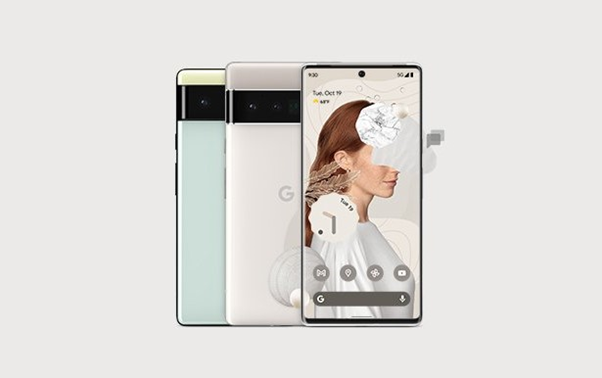 The design isn't the only area where Google have decided to do things differently. The screens on both of these phones are quite something.
The Google Pixel 6 may be the smaller of the two devices, but it's by no means small. At 6.4-inches, it's a good size for watching movies and getting the most out of games, while staying comfy to hold when taking calls and sending messages. Plus, it feels as smooth as it looks thanks to a Full HD+ resolution and 90 Hz refresh rate.
Google Pixel 6 Pro steps things up a gear, in every way. Much like its Pixel XL predecessors, it's bigger at 6.7-inches. And speaking of pixels, the display gets the most from every single dot that makes up the screen. It's a Quad HD+ OLED, meaning every little pixel is self-lit. Put simply, colours appear true-to-life when you browse through photos and watch gritty dramas.
But that's not all. The Google Pixel 6 Pro also boasts a 120 Hz refresh rate that drops down for less active apps. That means you still get that buttery-smooth scrolling, but it doesn't waste any battery unnecessarily. Clever.
Whichever one you go for, Google Pixel switches things up in 2021 with a fingerprint scanner built that sits underneath the screen. It feels like a logical place to have it, and means that secure access is only ever a quick thumb-tap away.
When it comes to the processor that powers the Pixel 6 and Pixel 6 Pro, Google have gone back to the drawing board and crafted their very own smartphone chip. Not only does this break with their tradition of using Snapdragon processors, but the new Google Tensor chip in both phones is around 80% faster than the Pixel 5's chip. Almost twice as fast. That's a huge deal in 2021.
It's not just about speed, though. This chip is a real smart cookie. It makes both phones better at picking up speech and varying dialects, and it's considerably more accurate translating on the go. More importantly, it adds the most layers of hardware security on a smartphone yet, and that means your data is in safe hands – yours.
Both phones come packed with the Google Tensor chip and 5G connectivity, which is paired with 8 GB RAM for the Pixel 6 and a massive 12GB RAM for the Pro model.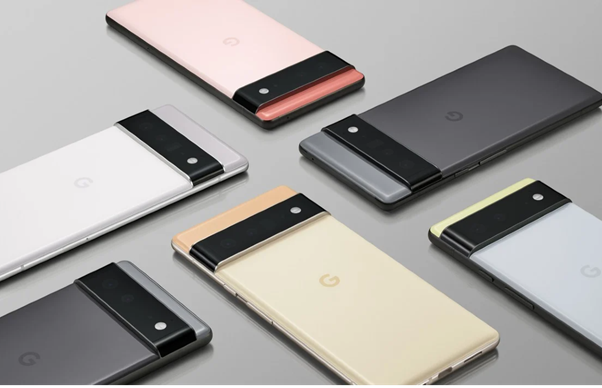 When it comes to previous Google Pixel phone cameras, it's been the software that's stolen the show. This time around, the cameras are bigger and better across the board.
Put simply, the Google Pixel 6 and Pixel 6 Pro have the most advanced cameras Google have put into a phone. Both have a new 1/1.3 inch primary sensor on the back that lets in 150% more light than the Pixel 5. That means much, much better photos in light and dark settings. The dual camera system on the Pixel 6 features a new 50MP wide and 12MP ultrawide lens, while the Pixel 6 Pro adds an amazing 48MP telephoto lens to make it a triple.
The standout features here are the reduction of blur when you take a snap, and the editing options after you've taken it. Laser detect autofocus keeps your subject in razor sharp focus, and if there happen to be any passers by in the background of that group snap, you can remove them in the edit with Magic Eraser in Google Photos. No more photobombs!
When are the Google Pixel 6 and Pixel 6 Pro available?
Both the Google Pixel 6 and the Google Pixel 6 Pro are available for pre-order from iD Mobile right now, and we've got a brilliant offer for you!
The Google Pixel 6 starts from £29.99 for 20 GB data with a £49.99 upfront cost, while the Google Pixel 6 Pro starts from £39.99 for 20 GB data, plus £49.99 upfront.
And even if you're still more than happy with your current phone, check out our top features of the new Android 12 operating system!
Unwrapping and activating your new Google Pixel 6 or 6 Pro device:
Please note that your new Google Pixel 6 or 6 Pro device may not be automatically running the latest Android operating system (Android 12). Please access the settings panel on your new device and check whether your new device is running the new Android 12 version. 
If your device is not running Android 12, then your device may not be able to connect to the iD 5G network, until it is updated. 
Your new Pixel 6 device should say: 
Software: SD1A.210817.036
O/S Version: Android 12