New to the iD Community or want to learn more about the Community ranks?
Here's how it all works...
Read on to find out how to get involved, rank up, get the most from your phone and gain access to exclusive content…
Welcome to the iD Community!
This is the place where iD customers, phone and tech enthusiasts come together to get answers, ask questions, chat to one another and enter epic competitions.
Our ranking system is there to help you get the most out of the iD Community. With rankings, you can see how active and knowledgeable other iD members are, and they can see how knowledgeable you are.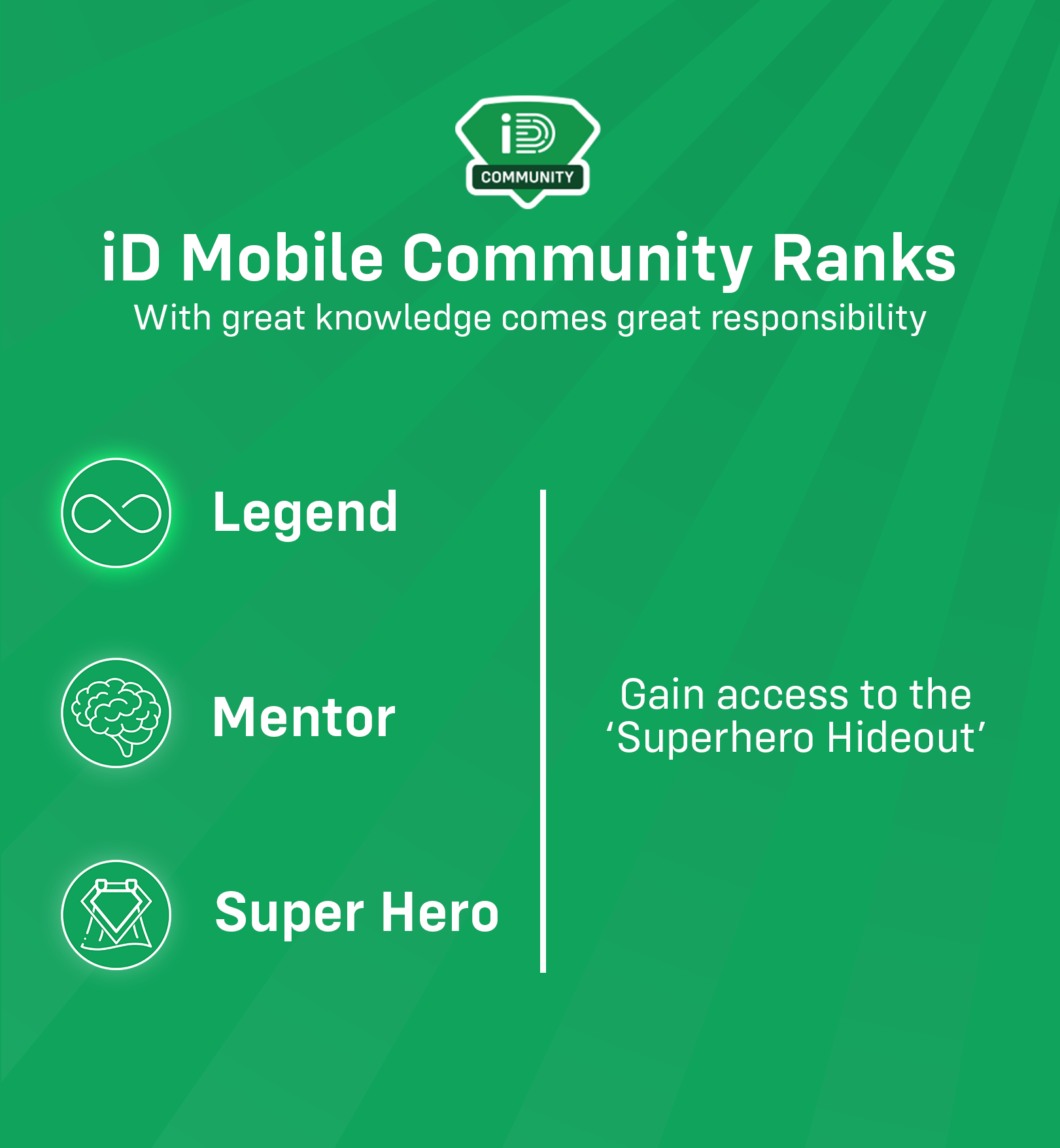 There are nine ranks, starting from Civilian all the way up to Legend. Once you reach Superhero level, you'll be able to access the exclusive 'Superhero Hideout', where you will gain access to a whole host of insider information, perks and rewards. Nice!
The more involved you get in this, your community, the faster you rank up and get access to the exclusive content that only the most active iD members see. It'll also boost your chances of earning top rewards as you go; such as, extra data, gift cards, tablets, mobile devices and accessories! The list goes on!
 You'll start as a Civilian, and work your way up as a Newbie, Rookie, Novice, Sidekick and Hero. When you reach the Hero rank, you've nearly made it to the hideout area.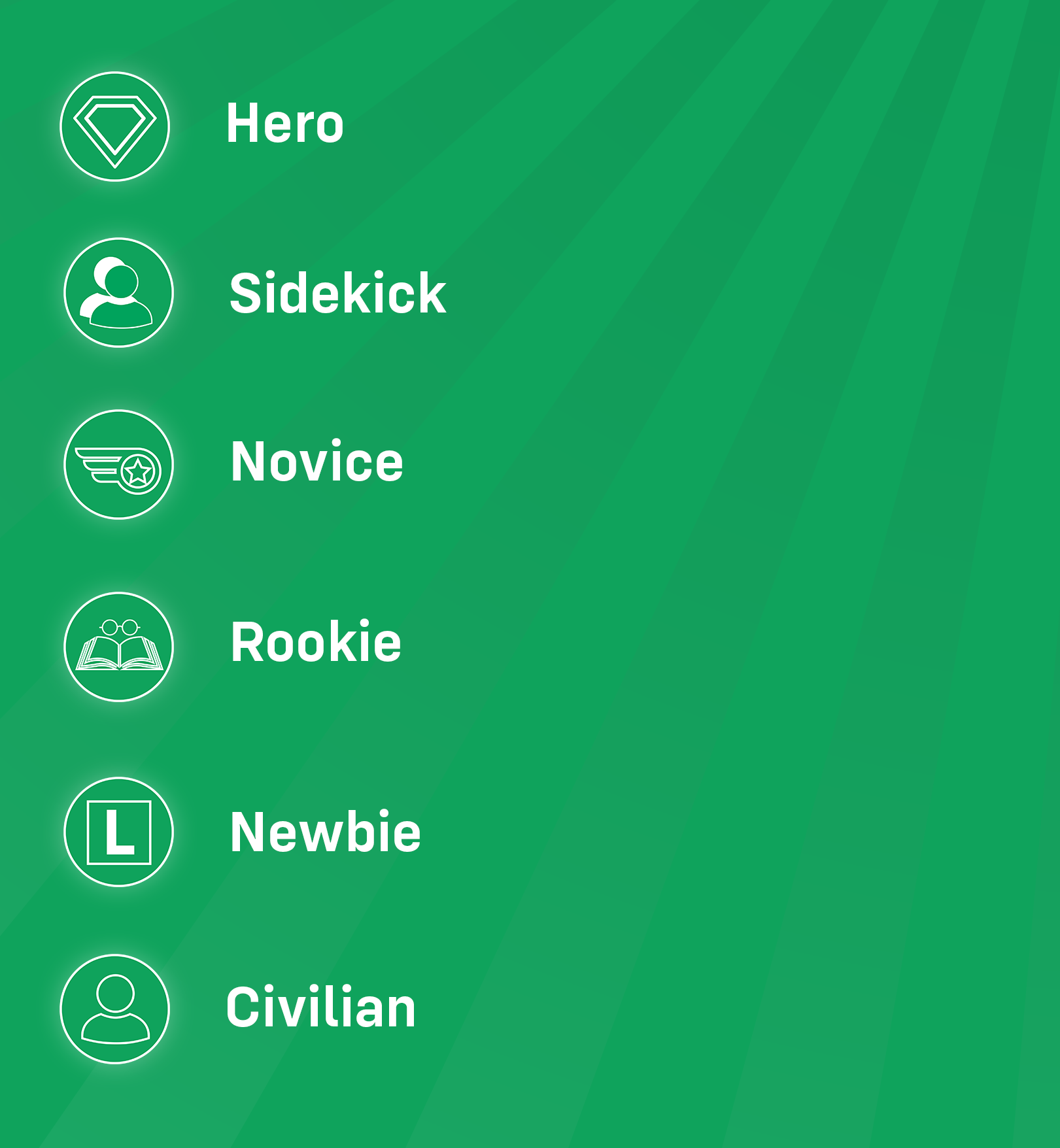 The Superhero Hideout features content that only Superheroes get clearance to see, and we're making it better all the time. 
Four of our top members have already made it to the Superhero hideout (shout out to @terrywebbs @Adzdalton , @daniiiiiv , @Gregor  and ), and you can be there with them.
But first, here's how you get there:
Got a question? Ask away
You're in the right place to find out about all things iD-related, tech and lifestyle. Our brilliant members offer a wealth of knowledge on all kinds of topics. But if you're struggling to find an answer, or you want to find out more about what your phone can do, feel free to ask your own question!
Just click the 'Ask a question' button on the top right and give your post a clear title and description. Don't forget to add the most appropriate category and tags so your fellow iD'ers can see it.
Once you get the answer you're looking for, be sure to 'like' the answers you've found useful. It makes it easier for others to find the same answers and will help you on your journey through the rankings.
Know your stuff? Share it with others
Help make the iD Community an awesome place to be. We have members posting questions regularly, waiting for the right person with the right answer to reach out. That could be you!
Dropping a useful comment or friendly guidance on a regular basis will help you fast track your way to superhero status. Try to give correct and detailed answers and you might have your answer marked as 'most helpful' this will not only benefit your rank reputation and progression but also make it easy for other members to find accurate answers.
It doesn't stop there!
You can even earn badges that show your expertise when you give great answers to specific topics. For example, if you think you know your way around iPhones, helping other Community iPhone users will earn you the 'Apple Guru' badge. So, everyone will know you're the go-to person for all things iPhone. Get involved!
Just browsing?
Don't feel like you have to visit the iD Community for anything in particular. Feel free to have a browse around the different posts and discussions that are active right now and check out our blog posts and competitions. We post a competition once a month, giving you the chance to win great prizes like a shiny new phone, extra data, gift cards and more.
And while you're here, why not strike up a conversation? It doesn't have to be about phones or iD Mobile, and who doesn't love a good chinwag?  Get chatting to fellow members about anything and find common ground - that's what a community's all about, after all.  
That's everything you need to know about earning your cape and getting involved in the iD Community. Hopefully, we'll see you in the Hangout soon!
Competition Time: (CLOSED)
Firstly, a big thank you for reading this article and hopefully you have gained some knowledge of how the Community ranks work. 
Now for the moment you have been waiting for…. Competition time! :D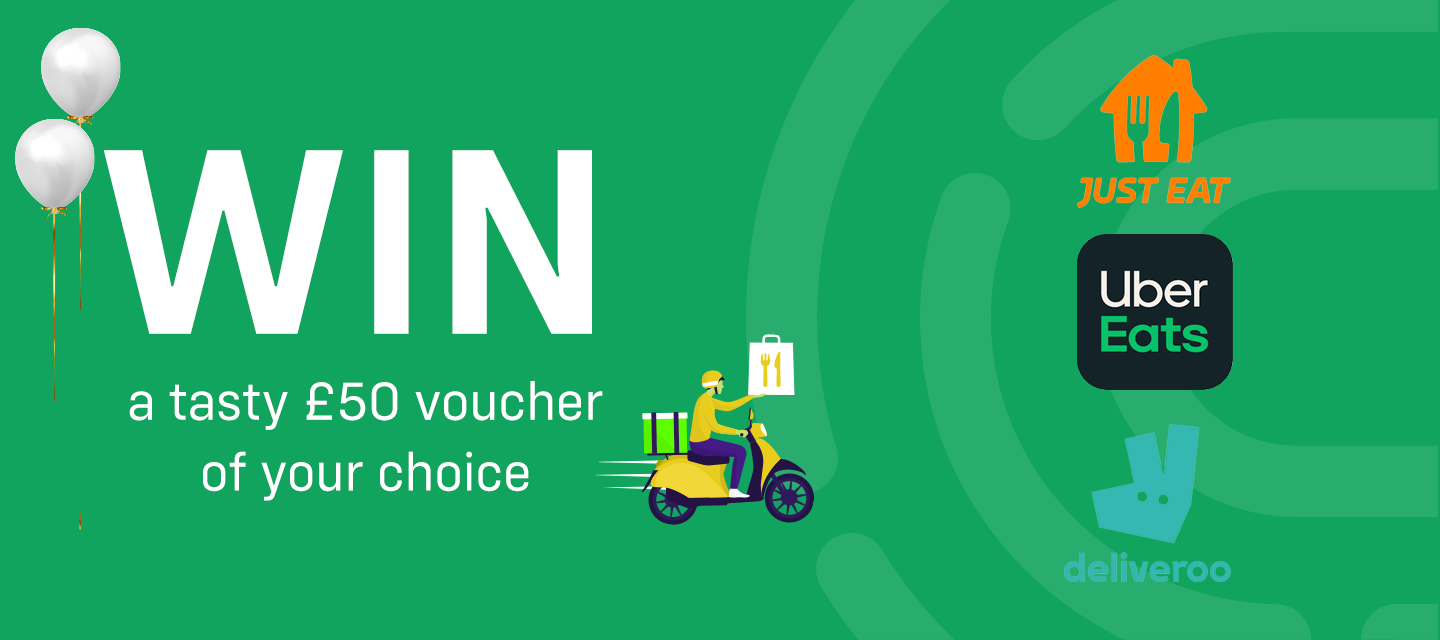 This month we're bringing the restaurants to you!
For a chance to win a tasty £50 voucher to spend on Deliveroo, Uber Eats or Just Eat, answer the question below:
At some point in our lives we have all had a favourite superhero. For your chance to win, tell us who your favourite superhero of all time is and why. 
Competition Winner: Congratulations @graemeporter1210 , you have won a tasty £50 voucher for Uber Eats, Deliveroo or Just Eat.