When you're at sea, we strongly recommend you don't use your phone, and put it into flight mode until you get to shore. We're advising this because roaming charges at sea can be very expensive.
If you're going on a cruise, or taking a ferry on a journey like Dover to Calais, roaming charges could apply,
even if you're travelling between two of our '
Inclusive EU Roaming' countries
.
The reason for this is because ferry and cruise operators often use their own phone network that's operated via satellite. Connecting to a satellite network is much more expensive then connecting to a land operated network, so that's why your usage at sea isn't included as part of your Inclusive EU Roaming allowance.
Here's a table showing the costs of roaming at sea: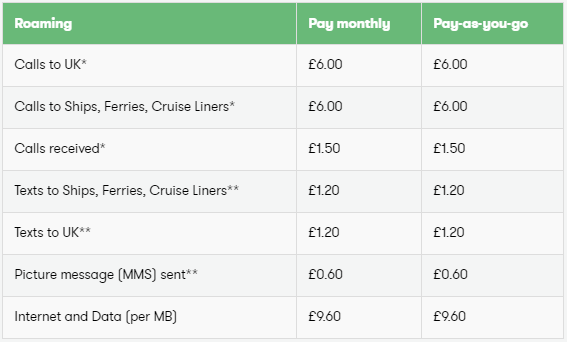 * Price per minute
** Price per message/text
Prices shown include VAT where applicable.
To avoid these high charges, we'd advise you not to use your phone when at sea. Just pop it in flight mode until you reach land.
Some ferry and cruise operators offer Wi-Fi on board, and you can still connect to Wi-Fi when in flight-mode. Simply go into your settings and manually turn on Wi-Fi.
If you've got a question on roaming at sea, post a reply below.