We all love our smartphones. We rely on them for so much. But there may be some things your phone can do that you didn't know about. Here are five of our favourites.
1. Snap while you shoot
If you can't decide whether to film some footage or take a photo, why not do both?
On iPhone, head to the Camera app and switch to video mode - then start recording as usual. You can then take a photo as you go by tapping the white button to the left of the start/stop button. When looking through your camera roll, you'll see both your videos and photos.
On Android, tap the video icon to record as normal, then press the "camera" or "shutter" icon while you're filming. Then find your photo in your gallery.
2. Get tethering
Need the internet to use your laptop or tablet, but there's no hotspot around, or no Wi-Fi in the bar or pub you're in? No worries. You could use your phone's 3G or 4G to power up instead.
On iPhone, head to Settings > Personal Hotspot and toggle the dial across, then find your phone in your list of Wi-Fi options on your tablet or laptop.
For Android, go to Settings > Tethering & portable hotspot, and then switch 'Portable Wi-Fi hotspot' on.
Beware though, it'll use up your data faster than you're used to.
3. Good vibrations
If you can't be checking your phone (if you're in a meeting, etc), you can customise your vibrations, so you'll know if the call coming in is an important one.
For iPhone, head to Settings > Sounds. Click on Ringtone or Text Tone, then select Vibration. Then scroll down to Custom, and select 'Create New Vibration'. Then assign individual vibrations to specific contacts.
For Android phones, you'll need the '
Contact Vibrate
' app – it's free to download. In the app, select 'Set vibration to contact', and look for the contact you want to apply the custom vibration to.
4. Brush up on brushing
Did you know you can download an app that gives you info on how you're brushing your teeth, and dissects your technique. We know, what will they think of next?!
There's the Oral-B app, which uses Bluetooth technology to track your position and gives you advice on how you could be brushing all parts of your mouth evenly.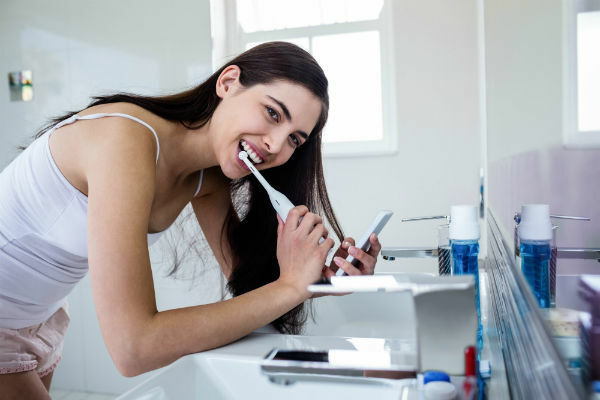 5. Let's get one thing straight
Here's a way to turn your phone into a spirit level. Download the Bubble Level app from the
App Store
or
Google Play
and you'll never again need to suffer wonky pictures on the wall.
Good tips eh? Well, we thought so. If you've got any of your own, do let us know below the line.