Ever wished you could take better photos? Well, thanks to AI-powered photography, you now can. It's the next big thing in mobile, and it could revolutionise the way we take photos for good. But what is AI photography, and how does it work? Let us explain.
First of all, what is AI?
AI stands for artificial intelligence. It has its roots in machine learning from the 1950s. Boffins in the U.S. taught a computer to play draughts, by programming it to anticipate and predict the moves of a human opponent. With practice, the computer learnt how to become a better player. By mimicking natural human behaviour, the computer's playing eventually became indistinguishable from a real person.
AI has come on leaps and bounds since those primitive draught-playing days. It's now inside our phones and other smart devices in the form of Google Assistant, Siri, or Amazon's Alexa. These AI-powered virtual assistants are clever enough to understand us, answer our questions and respond to our voice commands – and they're constantly improving as they learn about the world around them. It's that skill which is transforming the way we take photos.
How is AI being used in smartphone photography?
AI has actually been around in photography for some time – you'll find it in features like image stabilisation or red-eye removal. However, the latest AI-powered smartphone photography feels much more revolutionary and exciting.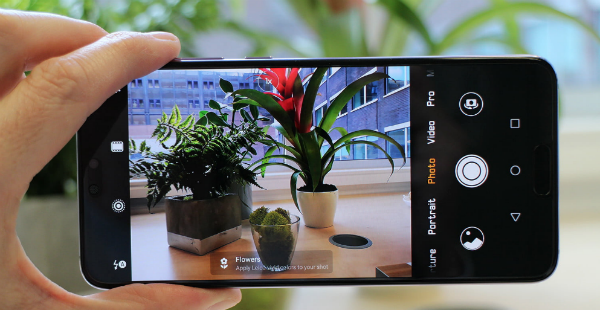 When Huawei revealed its P20 Pro Smartphone earlier this year (you can buy it from iD Mobile here), it was heralded as a 'renaissance in smartphone photography', with AI technology capable of letting anyone take "professional photos", according to Huawei CEO, Richard Yu. It can recognise up to 19 different scenes and objects, and then adjusts the settings for the perfect photo. Just like that draught-playing computer from the 1950s, it acts like a human being that understands the world around you.
Huawei spoke to a number of professional photographers to understand how to take the best pictures depending on what you're shooting, so each time you take a photo using an AI-powered camera, your phone is using real-world human knowledge. It's like having a professional photographer by your side doing everything for you but hitting that shutter button. It's perfect if you're too lazy to fiddle around with manual camera settings. Just snap and go.
So, is AI the future of mobile photography?
It could well be. If you're a novice photographer wanting to take professional-quality pictures without fuss, then AI photography is your friend. You'll have no trouble whatever you shoot, even in low light.
You can always play around with the manual mode on your phone camera if you take your photography seriously. But thanks to AI, even if you're a complete novice you'll soon be able to take smartphone photos as good as any DLSR camera. We think that's something worth getting excited about.