The Samsung Galaxy A8 has arrived, and there are plenty of reasons to get excited. Why? Because it's an affordable smartphone, yet one that's packed with features you'd expect to find on a premium phone.
We've recently got our hands on an A8, and we're mightily impressed by what it can do. Here's what we think of it so far.
A screen worthy of your viewing time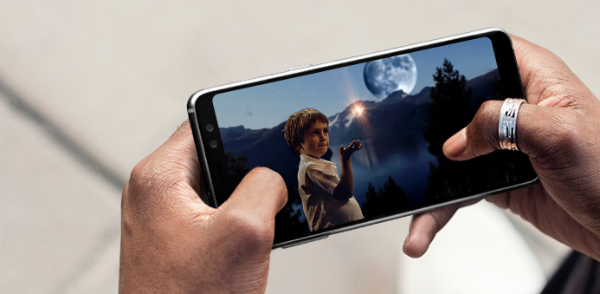 The A8 has taken its share of inspiration from the more premium flagship Galaxy S8. In fact, the A8 isn't too far off the same look and feel. The glass front, and rear metal frame is as much of a joy to look at as the S8.
The upper and lower bezels around the phone have also been slimmed down, so most of the front is just screen, and distracting black borders around the edge are a thing of the past.
As specs go, you're looking at a 5.6-inch Super AMOLED display with Full HD+ resolution. Naturally the viewing experience is great. The colours are bright and punchy, and images are full of close-up detail.
The A8 is also Samsung's first mid-tier phone to have an 18:9 aspect screen ratio, so you get an amazing widescreen display to watch movies on. And you get to see more of the picture, just as the movie director intended.
A camera built for selfie fans
Taking a perfect selfie can be tricky. The A8 makes it easier, thanks to a dual camera setup on the front of the phone.
The front cameras (8MP + 16MP) work their magic to capture superb studio-quality selfies, complete with background blur.
Samsung's Live Focus feature even lets you adjust the blurred effect long after the photo has been taken. It's another feature that's been borrowed from the S8.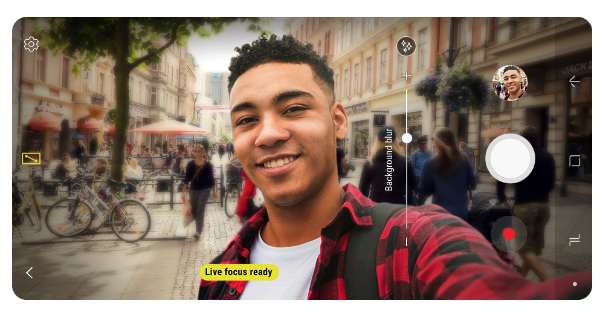 The rear 16MP camera is no slouch either. It has an f/1.7 aperture, which can take high quality photos in dark conditions, or if you're indoors, where there's less natural light.
Plenty of power, and a big battery to boot
There's nothing worse than phone lag, when you've got too many apps open at the same time, and you must close each one to fix it. You'll be doing less of that on the A8. It has Samsung's own Exynos 7885 octa-core processor, and 4GB RAM to boost performance and multitask without crashing.
In practice, we could run multiple apps smoothly, including Player Unknown's Battlegrounds - a large, graphic-intensive game - without fuss. Even better, the A8 has the same 3,000mAh battery you'll find on the S8. That's around a day and a half of battery life with average use.
Thumbs up
As you can tell, we're more than impressed with the Samsung Galaxy A8. It's a mid-tier phone, packed with high-end features. The A8 delivers a flagship phone experience, on a device that costs less. Tempted? Then do let us know in the comments below.