Nokia has been busy this year, releasing a range of smartphones for everyone – one of the most recent being the top-of-the range Nokia 8 Sirocco. And now with the release of the Nokia 1, the Finnish phone giant has the budget price bracket covered, too.

In fact, the Nokia 1 isn't just budget. It's super-budget. We don't usually like to talk about phone prices straight away, but we think this one's worth mentioning. Because it's the low price that makes the Nokia 1 such a rare thing – a quality Android smartphone, at a feature phone price. Let's take a closer look at it…
Tough build, swappable back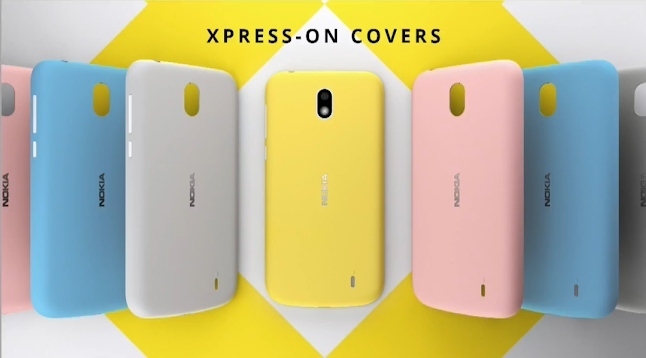 You know what we love about the Nokia 1's design? It's not pretending to be anything other than a budget phone. Yes, it's made of plastic, it's chunky and it's got thick bezels. But it's also nice and grippy, and fits comfortably into the palm of your hand. It certainly doesn't feel flimsy, and you get the impression that this is a phone that could take being dropped with a mere shrug of its (nicely rounded) shoulders.
The Nokia comes with a black back, but if that isn't your thing you can switch the backplate for an 'Xpress-on' cover. Nokia was famous for these replaceable covers back in the day, and we're glad to see them make a comeback. There are currently a few different Xpress-on covers available, and we hear that Nokia will be adding more colours and patterns soon.
Oh, and if you do remove the back you'll also be able to take advantage of another handy feature on the Nokia 1 – its replaceable battery. The 2,150mAh battery is big enough to give you more than a day of use, but if you're running low and you're carrying a spare, you can easily swap it over.
Bright and colourful display
The Nokia 1 comes with a basic 4.5-inch display. The 854 x 480 resolution isn't especially crisp, but the rest is good news. The display uses IPS LCD technology (the same as iPhones), so colours are rich and brightness is good – you'll be able to use the Nokia 1 outdoors without struggling to see what's onscreen.
Serviceable snappers, front and rear
There's a 5MP main camera with a LED flash on the rear, and a 2MP selfie snapper on the front. With these kind of specs, you've probably guessed that pictures you'll take won't be amazing quality. But they're decent enough. Take a photograph of a still-life subject in daylight, and this is the kind of quality you can expect. Not too bad at all…
Under the hood with Android Go
A low-end processor and a mere 1GB RAM. Yep, that's all that's running the show here. But you know what? The Nokia 1 performs like a much more powerful phone, thanks to Android Oreo (Go edition). In a nutshell, this is a new version of Android designed for budget smartphones. It's based on Android Oreo, Google's latest operating system, but has a few tweaks that make it ideal for phones with less storage and processing power. For example, some of Google's most popular apps have been redesigned and trimmed down, including Gmail, Google Maps and YouTube.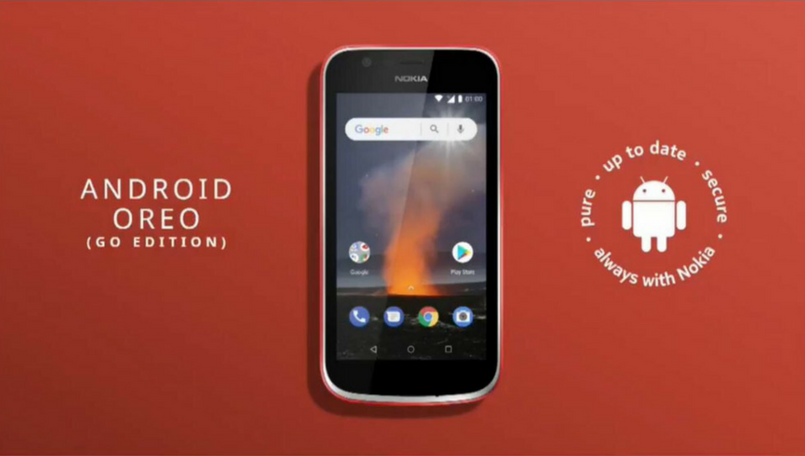 The Nokia 1 is the first phone running Android Oreo (Go edition) that we've had the chance to try out, and we're impressed. Apps feel responsive with no noticeable lag, and we were able to open multiple apps and switch between them without any issues at all. Google Assistant is also available, which surprised us a little. It's your very own virtual assistant, and it can instantly be accessed with a long-press of the Nokia 1 home key.
Our verdict? Nice One, Nokia…
The Nokia 1 is a simple and fun smartphone. It's easy to use, and it performs better than most other budget phones out there. The combination of Nokia's design skills and the power of Android Oreo (Go edition) is a real winner.
So, just who is the Nokia 1 aimed at? We think it would be a good choice of phone for anyone on a tight budget. And it would be a great first smartphone for someone. From young kids to elderly relatives upgrading from a feature phone, we'd recommend it.
Take a look at the great Nokia 1 deals available with iD Mobile today.