Ready to treat yourself to a brand-new iPhone? Take a look at everything that's improved since you last upgraded.
Can you believe it's been 13 years since the first iPhone was released? The sleek design and easy to use operating system have always meant that the Apple iPhone has been top of the class in the smartphone world.
However, the fact that iPhone is still such a popular device is due to the constant developments Apple have made to it throughout the years. With every new handset, the overall experience gets better – like Apple have listened to iPhone users and made subtle tweaks to the functional stuff, as well as bold design improvements.
Even in the past two years, smartphones have come on leaps and bounds, with many users owning a device that's more powerful than their laptop. Here's everything that's changed about the iPhone in two years:
iPhone 7 vs iPhone 8 Plus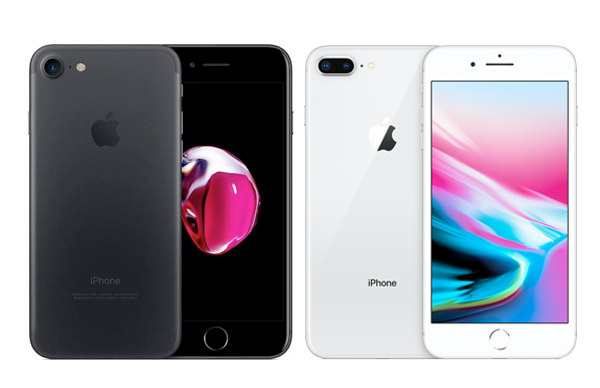 When the iPhone 7 was first released, it was quite a step up from the previous edition. It had a processor twice as fast as the iPhone 6, and a speaker twice as loud as the iPhone 6s. It could even record footage in 4K, which was rare for smartphones due to camera and storage limitations.
With the iPhone 8 Plus, Apple took everything that was great about the iPhone 7 and made it better still. The brilliant 12MP camera from the iPhone 7 has been paired with another 12MP lens – one for wide shots, and the other with 2x zoom for amazing detail at a distance. That means not only can the camera take stunning photos, it can record 4K footage at a super-smooth 60fps.
Not only that, but the phone itself is faster. Thanks to the A11 Bionic chip, the iPhone 8 runs like a dream. Multitasking is efficient, games are responsive, and the phone stays snappy no matter how many apps are open.
And what about the screen? Well, the iPhone 8 Plus is almost an inch bigger than the iPhone 7, at 5.5-inches. That's big enough to get lost in your favourite shows, movies andvlogs, but not too big that the phone becomes awkward to hold. Not only that, but the Retina HD display offers a Full HD resolution, making everything much more vibrant and clear.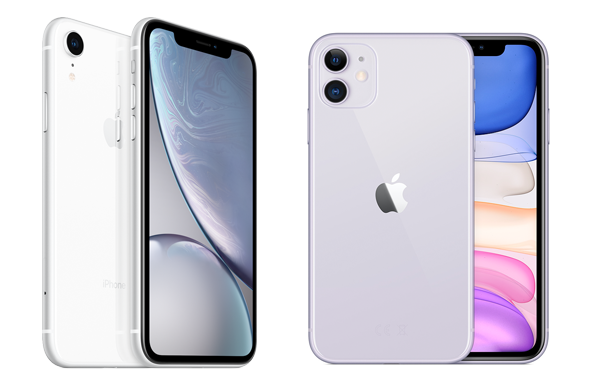 The iPhone XR represented the budget end of the iPhone range when it came out in September 2018. Funny, because the features it had are still anything but cheap – excellent battery life, 12 MP camera with AI smarts and the same superfast A12 Bionic chip as the pricier iPhone XS.
With its 6.1-inch screen featuring HDR10 and Dolby Vision, it made watching box sets that much more compelling, with impressive contrast and brightness.
Fast forward to 2019, and the iPhone 11 refined the iPhone XR experience. Just like the iPhone 8 Plus, there's a dual 12MP camera setup on the back. This lets you zoom out up to 2x, helping you get everyone in that family photo easily. Plus, the TrueDepth front-facing camera has been given a big upgrade too. It's gone from 7MP to 12MP, and can now shoot in 4K with just as much clarity at the back. So, video calling family is miles better.
If you're worried about getting your phone wet, the iPhone 11 has solved the issue once and for all. It's more water resistant than the iPhone XR, and can survive for up to 30 minutes in 2 metres of water. So, you can blast out that poolside playlist panic-free.
Of course, the iPhone 11 has an even more advanced processor than the XR. The handset may look similar to the XR on the outside, but it's much faster, smarter and efficient. In fact, it's so efficient that it can play music non-stop for up to 65 hours. And when you do need a little more juice, it can charge up to 50% in only 30 minutes. No waiting around.
iPhone XS vs iPhone 11 Pro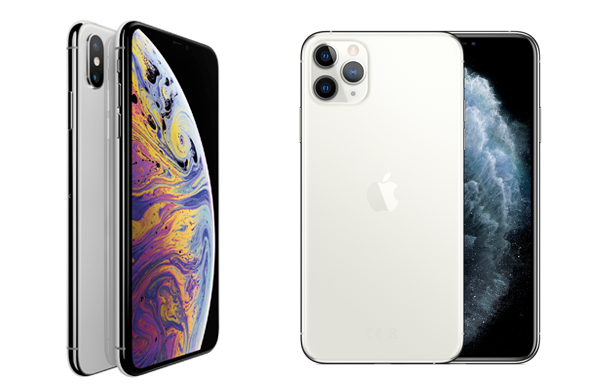 The iPhone XS seriously turned heads in 2018 when it first hit the shelves. A 5.8-inch OLED Super Retina display, dual Wide and Telephoto cameras and the A12 Bionic chip all meant that the phone set new benchmarks for sheer power, jaw-dropping photography and screen clarity.
It's pretty clear even at a glance that the iPhone 11 Pro is designed to be the XS' successor. With its similar dimensions and identical screen size, it's the perfect phone to upgrade from the XS and get browsing straight away. The screen isn't exactly identical, though. The iPhone 11 Pro has a Super Retina XDR display, meaning colours are much richer and every image is all the more realistic.
And if you're all about capturing the moment, Apple added a third camera in the form of an Ultra-Wide lens. The three lenses combine to help you nail that sweeping landscape and still capture all the detail in the foreground. It's even better in low light as well. Night mode minimises camera noise to help you capture every last detail in that gorgeous city skyline.
The A13 Bionic chip also makes a massive difference. While the A12 Bionic made great adjustments to speed and responsiveness, the A13 went a step further. The iPhone 11 Pro is more powerful than many PCs, so it can achieve pretty much any task you set it to.
Even since 2018, we're spending more time on our phones and less time on our PCs and laptops, so it's important that our phone batteries can keep up. The iPhone 11 Pro battery certainly can, with 4 hours extra battery life compared to the XS. Now, you can make it through a whole TV show with up to 18 hours of video playback. Or, if you're more of a music and podcast person, you can keep the tunes going for up to 65 hours.
Got an iPhone in your sights? Let us know which iPhone has caught your eye in the comments below.