At this time of year the number of phishing calls, texts and emails increases. So we thought write a few words explaining how to spot them, and what to do about them.
At iD Mobile, we take spam and phishing attempts seriously. If you ever receive a phone call, email or SMS asking for your card details or passwords, it's almost certainly a phishing attempt. Here's what to do about it...
How do I identify a phishing call, email or text?
Look out for any suspicious emails that refer to you or the sender as an email address, or anything other than a correct name. Poor spelling and grammar and claims that you've won money or prizes could also be a tell tale sign of phishing. Also, if you receive verification warnings due to a 'blocked account', treat this an indication that the email might not be safe.
What is text spam?
Text spam (also known as SMS Phishing or Smishing) is a common method used by scammers to trick you into going to a website or calling a number.
Once you've responded to their SMS, they'll ask you to provide confidential details, attempt to infect your device with malware, or get you to respond to a premium rate service.
These messages can be very convincing and look like genuine messages sent by organisations you deal with. Here are a few signs on how to spot them…
How to spot text spam
Spam messages often try to play on your emotions. For example, the message might claim that:
· You're in danger of being locked out of your account if you don't respond.
· You've won something or can get something for free, as long as you respond quickly.
Here's an example of a genuine spam message that targeted the Three network: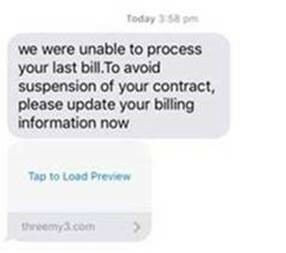 What you should do if you think you've received a phishing call, email or text
Simply receiving a spam message won't affect the security of your device or iD account. You have to reply to the message for that to happen. That's why it'll always ask you to do something like clicking a link, entering confidential information (passwords, bank details etc.), or phoning a number.
If you think you've received a spam message, our advice is as follows:
· Think about whether the sender would contact you in this way. For example, iD Mobile will never ask for your password or bank details by text.
· Remember, if a message looks too good to be true, it probably is.
· If you're still unsure, contact the sending organisation directly to confirm the authenticity of the message. Don't use any of the contact details on the message itself though - go to their website homepage instead. If you want to check whether an iD Mobile SMS is genuine, contact us on www.idmobile.co.uk/help-and-advice/contact-us
· Don't reply to the message.
· Don't do anything that the message asks you to do, like clicking links or downloading anything.
· Report ALL suspicious messages. If it's a text, forward it on to
7726
, so our security team can investigate and act. Text CALL to the same number to report a nuisance call – or report the incident to Acton Fraud – UK's national fraud and cyber crime reporting centre.
· After you've reported it, delete the suspicious message.
If you've got any questions on the above, post a reply below and we'll do our best to answer it - or one of your fellow iD Community members will pitch in and help.