Hi
Just wanted to check that when I am on hols in America, I will still be able to receive texts sent from the UK to my normal number, AND be able to reply directly to them (without having to remove the 0 and add +44).
My bank said I should check this as when I use my credit card abroad, they may text to ensure that the transaction is valid. I would be expected to reply to the text to confirm, and prevent my credit card from being temporarily blocked.
My data roaming will be turned off (no affect on SMS I assume) and other than any text from my bank,  I don't plan on using the phone other than when I'm connected to free WiFi.
Best answer by Mohammed 2 December 2019, 13:42
Hello @H22A,
So when you're roaming in USA, usage is not included in your allowances, thus a charge would be applicable (unless you're on the legacy Takeaway plan that was offered a few years ago).
Usage would be charged at the following rates: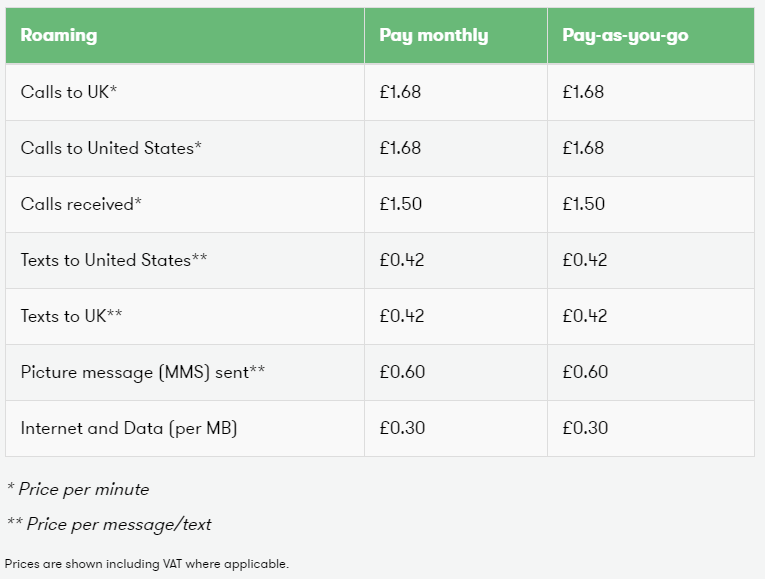 Receiving texts is free so there's no charge for this.
Sending texts however are £0.42 per SMS if it's a regular UK number (which I believe it should be, but best to check with your bank to see if there are any additional charges for texting them).
Therefore, you'll need to increase your spend cap to allow such spend.
You'll also need to turn ON Roaming in the iD app/account to ensure you can receive services when abroad.
You can certainly keep Data Roaming OFF which will prevent you using any data when roaming either.
It's worth noting that receiving calls are £1.50 per minute, so whilst Roaming is enabled, you would be charged for this.
You can leave the phone in flight mode until you're about to make a purchase if you'd like.
When you reach the cap, all out of plan usage will be prevented until the cap is lifted.
Use the +44 dialling code on any calls or texts when roaming.
You can edit the number/contact if it's one you have already saved.
But usually, if you receive a text from a number, it's configured as +44 by default.
Hope this helps.
Mohammed
View original