Download the NHS Track & Trace app – Competition
Finally, the light at the end of the tunnel is getting closer! Lockdown restrictions are gradually easing, and many of us are venturing further from our homes than we have over the past year – but let's not blow it now!
We're not fully back to 'normal' just yet, but we're able to go out for food and drinks with 6 mates, work out at the gym, get stuck into a blockbuster at the cinema, even attend football matches. Loads of things we've sorely missed.
However, Covid-19 may be around in one form or another a little longer, and things are still a bit different. Head out of your front door and wherever you go, a facemask and anti-bac are as necessary as your phone, cash and house key. But there's another essential that'll give you piece of mind, and help protect you and others from Coronavirus at this late stage. We're talking about the NHS Track & Trace app.
We've spoken about the Track & Trace app before. It's got loads of useful features to always keep you safe, and always one step ahead. You can check any symptoms you're feeling against the official list of Covid-19 symptoms, log results of a Covid-19 test and even check the risk of exposure in your local area. But the feature we think stands out above all is that you can use it to check into a venue.
If you're planning to head somewhere, be it a shop, bistro, bar, or bowling alley, you'll probably see a sign at the entrance asking you to check in. When you have the Track & Trace app, all you have to do is open it on your phone and scan the QR code to check yourself in. Not sure what that is? Take a look at our guide to QR codes to find out!
Checking yourself in this way each time you go somewhere is the best way to find out if you've been near others that have tested positive for Covid-19. It means you find out sooner rather than later, so you can make smart decisions about protecting yourself and others.
You may have seen some venues requesting that you write down your name and contact details as an alternative, but this just isn't as effective. When you write your details, the venue need to contact you manually when a customer has tested positive for Covid-19. By that time, you could be anywhere! With the app, you find out right away.
So, while we're all getting back out there and making big reunion plans with our friends and families, it's more important than ever to download the Track & Trace app. It'll help you check into that favourite restaurant, pub, gallery or museum much quicker, and keep your loved ones safe too. Win, win!
We mentioned just a few of the things we've missed while the nation's been in lockdown – now it's your turn!
We'll pick two lucky winners and treat them to a £50 Restaurant Choice gift card. With a great selection of restaurants, it's on you to choose what you fancy. Our treat!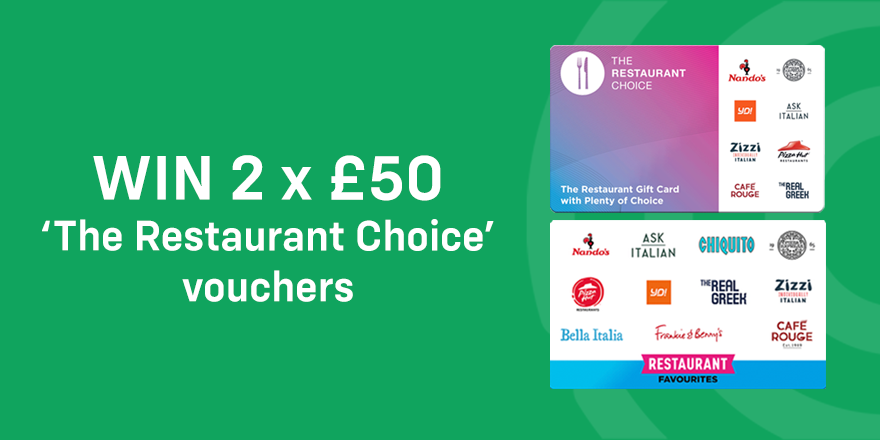 We want to know what are you most looking forward to doing now that restrictions are gradually being lifted? It can be anything from revisiting that eatery where you're on first name terms with the chefs, getting back to the theatre, or even giving your mates a hug!
Standard competition ​t​​​​erms & conditions apply. 
Best of luck!
Congratulations to @VelvetGlove and@daveyboy you are our winners! You will both receive a £50 'Restaurant Choice voucher' - Well done!