Happy World Giving Day, everyone! If you're feeling charitable and want to start giving, we've found five apps that'll help you support those good causes you're passionate about.
Today is an international day of charitable giving, so it's a great time to donate to good causes. But with so many worthy charities helping people around the world, it can be difficult giving to all those we want to support.
That's why we've come up with this list of charitable apps for you. They're all available to download from the App Store or Google Play, and another thing they've got in common is that they let you help charities in a number of imaginative ways – not just cash donations.
Charity Miles
Charity Miles is a real win-win app. The more you exercise, the more you reward your favourite charities. Everybody benefits.
Go for a walk or run, and Charity Miles will donate some cash per mile to the charity of your choice (you can choose from a selection in the app). If you prefer getting on your bike and cycling, not a problem - Charity Miles will still make a donation for every mile you cover.
Charity Miles couldn't be easier to use – just open it up, choose your charity, select whether you're on foot or on your bike, and do your thing! The app then tracks how far you go using your phone's GPS, and it'll make the donation at the end of your workout.
Donate a Photo
Johnson & Johnson's Donate a Photo app is a nice and simple way to support the causes you believe in. Just set up an account, choose who you want to help and upload a photo. Yep, that's all you need to do!
Then for every photo you upload, Johnson & Johnson will donate $1 to your chosen cause. Causes have targets, and once the target is met a new one replaces it. So you can keep coming back to donate to new charities.
You can upload a photo every day and the only place they'll be displayed is in Donate a Photo's gallery – so you don't need to worry about your pictures being used for marketing.
Walk for a Dog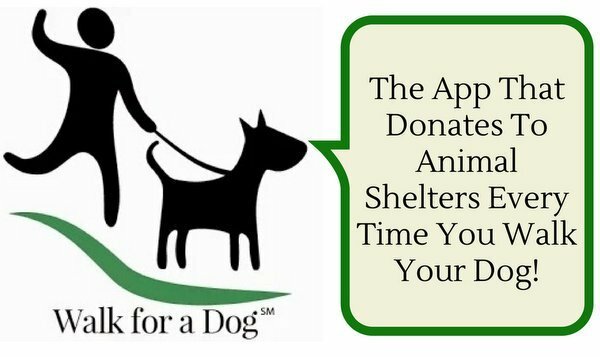 Need to take the dog for a walk? Then download this app, grab a lead, and turn this daily chore into an act of giving.
The app will track your daily dog walking activity, and make a donation to the animal shelter or rescue organisation of your choice. The donation depends on the number of people walking their dogs for your chosen charity, so it really pays to share your activity on social and spread the word.
JustGiving
You've probably heard of the JustGiving app. It's perfect if you're planning a fund-raising event of your own.
Whether you're running to fight cancer or cycling to raise money for a local charity, this app makes it easy to take donations from friends and family. You simply choose the charity you're supporting, set a funding goal, then write a short description of what you've got planned. You can share your page, and others can donate with just a couple of clicks.
First aid by British Red Cross
This app isn't about raising money - it gives you the skills to help others instead.
You'll learn all the first aid basics, as well as tips on how to prepare for emergencies. It covers everything from severe winter weather to road traffic accidents.
To make learning easy there are loads of videos, interactive quizzes and step-by-step guides. And because everything's built into the app, you don't need an internet connection to use it – so it could come in very handy in an actual emergency.
Will you be using one of these apps today? Or have you a got another app that you use for charitable giving? Post a reply below, and share your thoughts with the rest of the iD Community.