We've all heard of The Grinch that Stole Christmas, but what about the phone that saved Christmas? That's right, your smartphone can save the big day in more ways than one. Let us explain.
Christmas should be a time of fun and relaxation. But it can also be extremely stressful. From buying the wrong presents to undercooked turkey, it's full of potential pitfalls.
That's where your smartphone can help. Because by downloading a few handy apps, you can avoid any of the usual festive missteps and mishaps. Sitting comfortably? Then let us show you five ways your phone can save Christmas…
1. Take the stress out of last minute Christmas shopping
Let's face it, shopping for a last minute pressie can be a major headache. The streets are cold and wet, it's full of desperate shoppers, and every store has Cliff Richard's 'Mistletoe and Wine' on repeat (or is that just our imagination?). So why not do it all online, from the comfort of your home, with a little help from the Funky Pigeon app? It's free to download from
the App Store
or
Google Play
.
Funky Pigeon has a great range of Christmas cards that you can fully personalise with text or images. A lot of designs let you add photos straight from your smartphone, to create something really special. The kids will be amazed by a card with them on the cover!
You can also buy Christmas gifts like mugs, cushions and posters – and again, these can be completely personalised with your favourite photos. Funky Pigeon can also do the gift-wrapping and delivering for you -
just remember to get your order in before their Friday 21st December cut-off.
2. Say hi and wave to far-off family
It's Christmas Day. Time to call your relatives around the world and wish them a Happy Christmas. These days, of course, you can make video calls with your smartphone. Grandparents always love seeing their grandchildren onscreen. And time it right, and you can see the gifts you bought being unwrapped.
FaceTime
is great just as long as everyone's got an iPhone. If not, then WhatsApp (free to download from
the App Store
or
Google Play
) is the one to go for. It works across different devices, and it's the world's most popular cross-platform messaging service. You can make video calls, phone calls, send text messages and videos – and if you're on Wi-Fi, you won't use up any of your monthly allowances of minutes, texts or data. It's completely free.
We love WhatsApp because it's so easy to use. Even elderly relatives that aren't very tech savvy will be able to get the hang of it, and take your Christmas call.
3. Make it a perfect Christmas dinner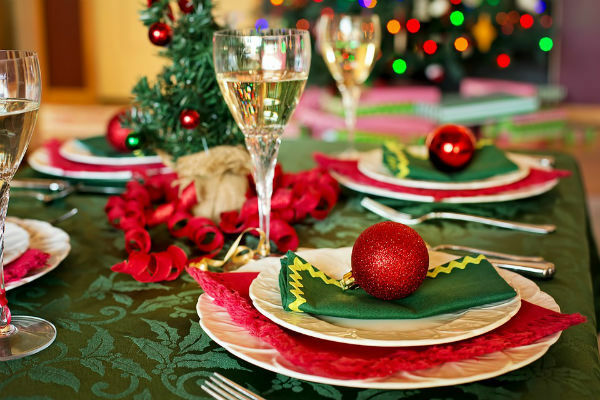 Want to create the best Christmas dinner ever? It's all about timing. Everything needs to come together all at once, and the Timer+ app (free to download from
the App Store
or
Google Play
) will help you do just that.
Timer+ is an app that lets you run multiple timers at once, and you can label each one, so you know what's what. You'll be able to time every single part of your Christmas dinner to the second, ensuring everything will be cooked to lip-smacking perfection – not just the turkey, but also your roast potatoes, carrots, parsnips, pigs in blankets, and good old Brussels sprouts. Yes, it's a simple little app. But that's the beauty of it. Cranberry sauce, anyone?
4. Bring some music to the Christmas party
Christmas dinner is over, and everyone's had time to relax. A few Christmas tunes to round off the day is always nice, and if you get Spotify on your phone (download it from
the App Store
or
Google Play
), you've got 40 million songs at your fingertips.
There are loads of Christmas playlists to choose from (either created by Spotify users, or by Spotify itself), then it's just a case of turning up the volume on your phone and pressing play. Or you can stream your Spotify sounds to a Bluetooth speaker – if you're lucky, someone'll have bought you one as a pressie.
Spotify can be downloaded for free, with adverts playing between songs. For ad-free listening, you can subscribe for £9.99 a month.
5. Control your festive spending
It's the most wonderful time of the year, but it's also the most expensive. So be sure to use
the iD Mobile app
to manage your allowances and avoid bill shock.
If you want another helping hand keeping on top of your finances, get the Money Dashboard budgeting app (free to download from
the App Store
or
Google Play
). It's one of the very best.
Money Dashboard gives you a single view of all your bank accounts, credit cards and monthly bills, so you don't have to log on to lots of different sites to track your finances. All your spending is broken down into categories, with clear and helpful charts to help you see where your money goes.
There's also a budget planner that'll help you save money to spend on the things you want – which is exactly what you need to do at this time of year.
Use Money Dashboard wisely, and you'll stay on top of your spend all through Christmas. Who knows, you might even start off the New Year with some cash in your pocket.
So there you have it. Five ways your trusty phone can save Christmas. Have you got any of these apps? Or have you got any Crimbo-saving smartphone tips you'd like to share? If so, post a reply below.