Phones with great cameras make cracking Christmas pressies. Who doesn't love snapping a selfie or sharing shots on Instagram? If you need some gifting inspiration, here are some of the very best.
Samsung Galaxy A9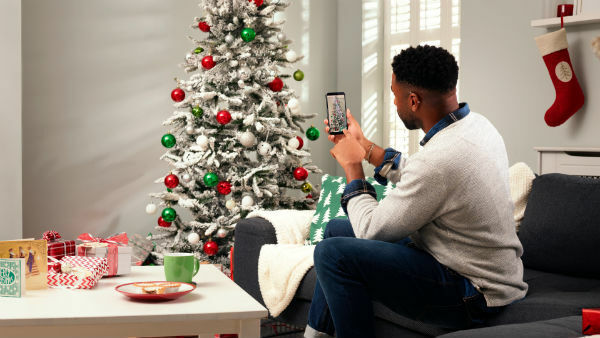 A lot of phones with good cameras come with more than one lens on the back. Dual lens and even triple lens cameras are becoming more and more popular. But the Galaxy A9 is even more special, with an incredible four rear lenses. It's a world first - and that's not including the selfie camera on the front.
So, why four lenses we hear you ask? Well, first of all, the main camera captures incredible detail and contrast in all conditions. And then there's a 120° Ultra-wide lens. That's the same viewing angle as the human eye – which means you can capture the scene as you see it.
There's also a telephoto lens with a 2x optical zoom to help you get in closer without sacrificing picture quality. And last but by no means least, you've got a depth camera for professional looking blurred background effects – those festive winter scenes will look out of this world.
There really isn't much this phone can't do, so it's a great gift for a photography fan that likes trying new things.
Buy the Samsung Galaxy A9
Google Pixel 3
The Pixel 3 is perfect for capturing those special Christmas memories. Its best feature is something called Top Shot, which starts capturing the scene even before you've pressed a button. If you're taking a family Christmas snap, it helps you select that perfect shot where everyone's smiling, nobody's blinking, and Grandad's remembered to put his false teeth in.
If you buy the Pixel 3 for a special someone, they'll never have to worry about failing to capture the perfect moment - like the look on everyone's face as the turkey's getting carved. That's what Christmas is all about.
Buy the Google Pixel 3
Huawei P20 Pro
The Huawei P20 Pro has an incredible triple-lens camera, and it's crammed with the latest in AI technology.
A 3x optical zoom lets you get closer to your subject without any loss of detail, and AI-powered automatic scene recognition automatically adjusts the camera settings for you, for the best possible photo whatever you're shooting.
The AI inside the P20 Pro really does make any photo look amazing, and the image quality is mind-blowing – so just think about how good your lucky recipient's festive Instagram feed will look!
Buy the Huawei P20 Pro
Apple iPhone Xs
Buy this phone for someone, and they'll be amazed with the quality of photos it takes – because the camera on iPhone Xs is nothing short of fantastic. Part of that is down to Smart HDR, which adds more life-like highlights and shadow details to anything you take a photo of.
And the new Portrait Mode is outstanding. You'll notice the spot-on colour accuracy and incredible levels of detail, even in low-light. It also features an all-new bokeh slider, allowing you to manually adjust the professional-looking background blur on your photos.
If you're buying for someone who loves a selfie, they'll get a real kick out of the front camera's TrueDepth feature. This projects over 30,000 infrared dots onto the users face to help get the light levels just right. Perfectly lit selfies, every time…what could be a better gift than that?
Buy the iPhone Xs
Do you have any questions on smartphone photography? Then post them below, and one of your fellow Community members will help you out.