Say hello to Pixel 3
Google's new smartphones are finally here! Give a warm welcome to the Google Pixel 3 and Pixel 3 XL. Both are amazing and packed to the brim with features, including an awesome camera that you'll love playing around with. Here's our hands-on impressions.
Beautiful design, no smudges
The first thing you notice about any smartphone is its design, and the Pixel 3 is gorgeous thanks to an all-glass front and back. The Pixel 3 is a phone you'll want to show off to your friends.
That glass back also has a two-tone look and a matte finish that gives the phone a nice grip – so it's less likely to slip out from your hands. The matte finish is also good at keeping fingerprints and smudge marks at bay. Even after a day's use, your Pixel 3 won't look grubby.
A display made for entertaining
Pixel 3 is available in two sizes. Take your pick from the 5.5-inch Pixel 3 or the 6.3-inch Pixel 3 XL. Both have super impressive Quad HD+ OLED displays, so if size matters to you, go for the bigger model – which is superb for watching movies on and doing all the things you love on it.
And speaking of entertainment – everything just sounds better thanks to Pixel 3's front firing speakers. They project sound upwards, so none of that high-quality audio is wasted. The speakers are much louder than they are on previous Pixel phones, so you'll really hear the difference.
Taking a good photo just got easier
The Pixel 2 was – and still is – one of the best camera phones around. And the Pixel 3 is even better. Google goes as far as to say it's the best you can get. And we don't blame them. The new photo features are excellent. Speaking of which…
Top Shot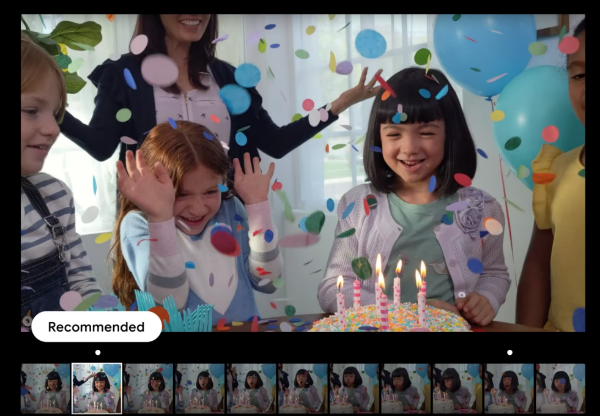 You'll use this one all the time. It uses Google's AI to pick out the best picture to use. Open the camera and point it at something. While you're doing this, the Pixel 3 is automatically stores images before and after you press the shutter button. That way you won't miss any moment by being slow. And don't worry if someone blinks or sneezes. Top Shot will find a picture where everyone is perfectly posed.
Group Selfie Cam
Ever tried taking a group selfie, but struggled to get everyone in the frame? Group Selfie Cam solves this problem by using the Pixel 3's dual front-facing cameras to take wide angle selfies. It's also great at solo portraits, where you want to capture yourself against a stunning backdrop or something cool you've spotted.
Super Res Zoom
It can be tricky trying to get a good close-up shot without any blur. Pixel 3 makes it easier, by digitally zooming into whatever you're pointing the Pixel 3 at, and sharpening the image. It does this using Google's clever image processing technology. The results are impressive – you'll be able to make out even small details on faraway objects such as buildings.
Lots of power and storage
The Google Pixel 3 is lots of fun to use thanks to its fast Qualcomm Snapdragon 845 processor and 4GB RAM. We've put the phone through its paces and can safely say it'll run anything you can throw at it. And you won't have to close apps to speed it up – which makes the Pixel 3 perfect for multitasking.
The 2,915mAh battery also gives you a full day's use even if you've been taking photos and hitting up Instagram or Twitter throughout the day. Impressively you can get up to hours of power from just a 15-minute charge.
Choose from 64GB or 128GB of internal storage. Google also offers free photo storage to Google Photos – so you can take as many pictures as you like without running out of room. Lovely. As you can tell we're well impressed, and you will be too.