Google's operating system just got a big refresh. Here are the new features we're loving right now…
It's always exciting when you get that alert on your phone to say there's a big new software update available, and Google's latest OS release is no different. Android 12 brings some fantastic new features to Android phones, including better privacy and security, a fresh-looking interface and the most in-depth drop-down Quick Settings we've seen yet.
Whether you've got an Android phone that's around two years old, or you've just bought a new Android phone that ships with Android 11, you can expect to get that update ping real soon. In the meantime, let's take a closer look at the finer points of Android 12:
We all love widgets. They make your home screen personal with info that's tailored and relevant to you. And with Android 12, they're clearer to navigate.
Widgets are now divided into the apps they belong to, and it should tell you how many widgets are available. It'll even show you what the widget will look like on your phone before you pick it. Plus, we think the new stock Android clock and weather widget designs really make your home screen pop.
To get there, just long press anywhere on your home screen until the options pop up, then tap Widgets.
Privacy is a big topic when it comes to phones, and we always recommend checking the permissions you give the apps you use.
Take location, for instance. Some apps need to know your exact location, like taxi and food delivery apps. Others don't need it at all, while some, like weather apps, only need an approximate location – they don't need to know where you are turn by turn.
That's why Android 12 splits location permissions into two categories, Precise and Approximate, to put you in more control of your data. Now you can decide for yourself if the apps you download need to know exactly where you are.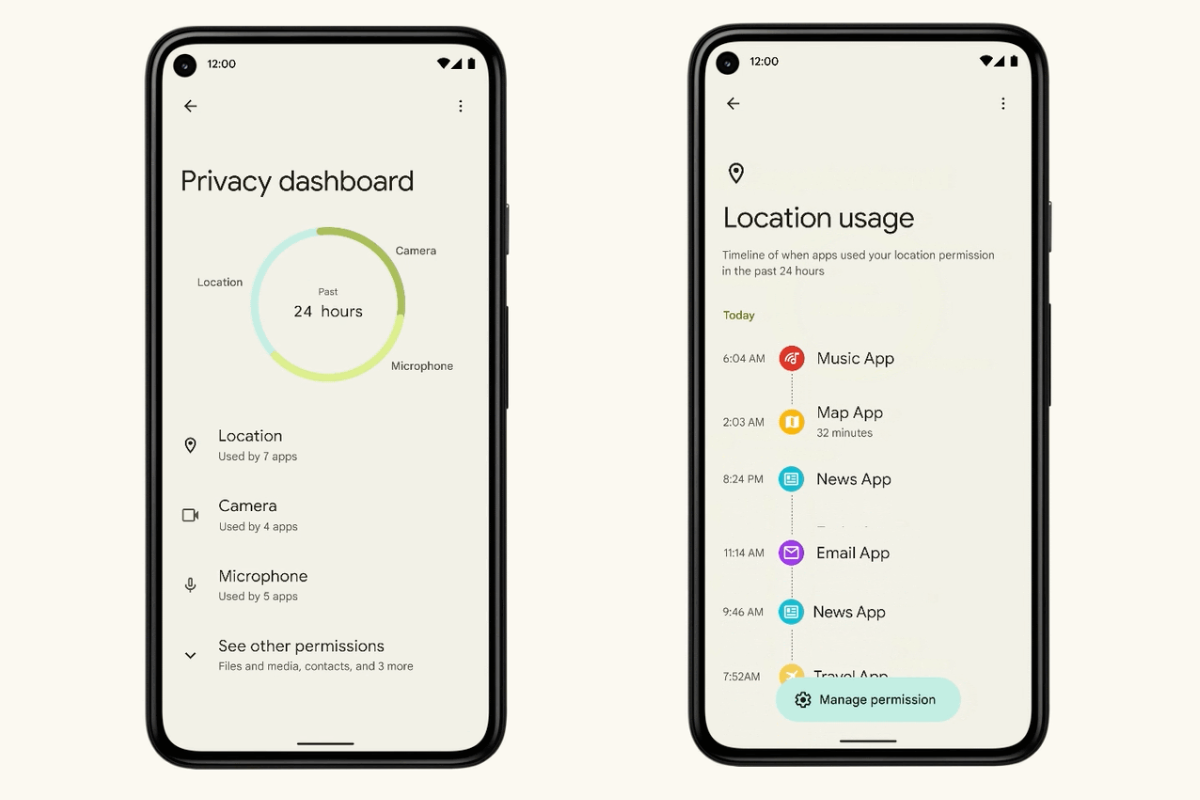 Android have made some real progress with privacy features in this version, so we couldn't just give it one spot on our list. The new Privacy Dashboard is a real step up from manually delving into each app's permissions.
On the dashboard, you can see all the permissions at a glance, like microphone, camera, location, and contacts. Under these categories, you'll see which apps have permission to use them. You can even dive deeper and see an exact timeline of when each app used these permissions. Smart!
Screenshot the entire thing:
Here's a feature we think everyone will use! Ever want to capture a snippet of an article or Twitter exchange in your WhatsApp group but can't fit it all into one screenshot? Android 12 solves that bugbear once and for all with scroll capture.
It's easy to use – just take a screenshot like normal, tap on 'Scroll' and then scroll down to extend the image. Now you can share it all in a single snap instead of turning it into a thread.

Sometimes, it's the slightest advantage that makes all the difference in grabbing the win. Like frame rate, for example. A high frame rate means smoother motion and more reactive controls, and now, your Android 12 phone will show you exactly what the frame rate is in real time.
Head to Do Not Disturb mode, tap Schedules and you'll find a few different profiles. Tap Game mode, and you'll be taken to a menu where you can toggle FPS on or off. Plus, there's a quick link to livestream your gameplay straight to YouTube.
Colour co-ordinated style!
If you've already updated to Android 12 and you've since changed your wallpaper, you might have noticed something new. The new 'Material You' feature creates a custom colour palette to match the colours of your wallpaper background. Those colours are then applied to your notification panel, system background and lock screen to make your phone look super-tidy and uniform. Why not try it out and give your phone a makeover?
There you have it, just a few of the brilliant new things Android phones can do with the power of Android 12. There are plenty more features you can expect with the new OS, so why not explore them out for yourself?
Let us know what new features you're loving in the comments below!