There's a new flagship phone in town. Get set for next-gen photography, share-ready footage and bundles of power…
We love seeing new innovations in the smartphone world, and Samsung have kicked things off early in 2021 with the launch of three new flagship handsets – The Galaxy S21 5G, S21+ 5G and S21 Ultra 5G. From budding photographers to box set bingers, the S21 range has something for everyone to love. Let's take a closer look: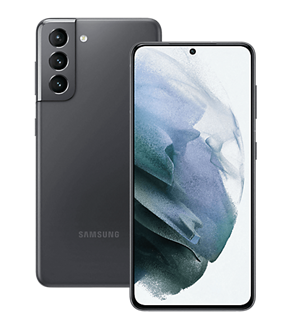 The Galaxy S21 5G is compact but packs a serious punch. With a Dynamic AMOLED 2X 6.2-inch display, every movie, game and web page looks bright, bold and beautiful. The screen refreshes all the way up to 120 Hz too, making in-game motion feel buttery smooth. And if you ever run low on juice, you can reduce the refresh rate to save energy. That's smart.
Powered by the new Exynos 2100 processor, 8 GB RAM and superfast 5G, the S21 offers 'never miss a moment' connectivity. It has the power to download apps and movies in seconds, deliver buffer-free streaming and switch instantly between your favourite apps.
Then there's the awesome camera. This triple lens can shoot in gorgeous 8K, and for the first time ever, you can use all the rear lenses to record footage simultaneously. And because that share-ready footage includes a ton of great photo ops, you can pull out high res stills and share them separately. Nice.
Can't choose what style of shot to go for? Go for Single Take mode. It captures 14 different creative versions of the same image, so you can pick the best one to share without the usual trial and error.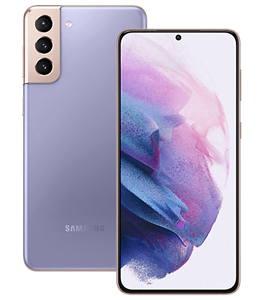 Looking for a bigger screen? The Galaxy S21+ 5G takes things up a gear, with a large 6.7-inch display and FHD+ resolution. The gorgeous Dynamic AMOLED 2X screen means you can watch epic battle scenes and season finales, and never feel like you're compromising.
A big screen needs more power, and the S21+ features a 20% bigger battery to keep your browsing, chats, movie watching and gaming going for as long as you need. In fact, there's so much battery to go around, you can share it with your other compatible devices when they run low.
Under the hood, the S21+ has the same processor as the S21, as well as the same cracking camera setup fronted by that brilliant 64 MP lens. And the Night Mode is a serious contender, too.
Samsung Galaxy S21 Ultra 5G
Make no mistake, the Samsung Galaxy S21 Ultra takes things to the max. A 6.8-inch display with a Quad HD resolution, and that brilliant 120 Hz adaptive refresh rate. With both 12 GB and 16 GB RAM options, this phone is a powerhouse. Internal storage goes all the way up to 512 GB too, so you'll never run out of space.
The real star feature here though is the quad camera. Dual 10 MP tele lenses, a 12 MP Ultra Wide and a massive 108 MP wide angle lens make up one of the most capable phone cameras we've ever seen. That huge wide lens takes incredible photos, even at night, while the dual telephoto lenses can do both 3x and 10x optical zoom. You can capture cinematic footage, go ultra high res with 8K shooting, or take the perfect selfie first time with studio lighting. It's a content creator's dream.
Framed with the toughest Gorilla Glass yet, the S21 Ultra 5G matches its power with durability. Security is practically vault-like, with an in-screen fingerprint reader offering instant secure access to all your apps and content. And for the first time in the history of the S series, you can add a Samsung S Pen and use the S21 Ultra notebook-style.
Got your eye on a new Samsung S21 5G? Order now and get a great deal with iD Mobile!
*5G connectivity is not currently available on iD Mobile
Samsung S21 5G, 128 GB – from £34.99 monthly, unlimited minutes, 20 GB data, £99.99 upfront
Samsung S21 5G, 256 GB – from £37.99 monthly, unlimited minutes, 20 GB data, £99.99 upfront
Samsung S21+ 5G, 128 GB – from £41.99 monthly, unlimited minutes, 20 GB data, £99.99 upfront
Samsung S21+ 5G, 256 GB – from £44.99 monthly, unlimited minutes, 20 GB data, £99.99 upfront
Samsung S21 Ultra 5G, 128 GB – from £52.99 monthly, unlimited minutes, 20 GB data, £99.99 upfront
Samsung S21 Ultra 5G, 256 GB – from £54.99 monthly, unlimited minutes, 20 GB data, £99.99 upfront