If you're looking to upgrade to a new Android phone, you're in great hands with iD Mobile. New smartphones are launched regularly, and they get better and better, so choosing the right one for you can be tricky. Here's our pick of the best to make that all-important decision a little easier.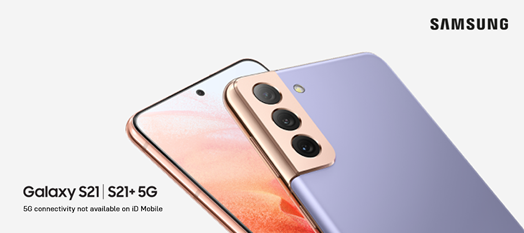 The Galaxy S21 5G has three rear cameras (with a big 64MP Telephoto Camera leading the way) and a huge 30x Space Zoom – which makes for some amazing close ups. It can even record in incredibly high res 8K at 24 fps, and you can pick out high resolution stills as crystal-clear, in-the-moment photos. It's a content creator's dream.
Everything you do on the S21, from general browsing to multiplayer online gaming, feels super-smooth. That fantastic 6.2-inch AMOLED display supports a 120 Hz refresh rate, so every tap, swipe and press, feels more responsive. And it adapts to your activity, so you can rely on the battery to keep going.
Packed with an octa-core processor, 8GB RAM and fast 5G connectivity, the Samsung Galaxy S21 5G can handle speedy downloads, big apps and intensive multitasking.
Check out the Samsung Galaxy S21 here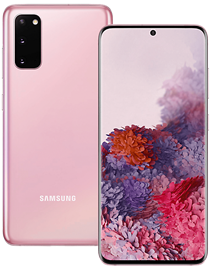 The Samsung Galaxy S20 FE has everything you need for a cracking smartphone experience - a triple lens camera to make light work of wide-angle and zoom photography, a huge battery to keep you powered up on the move, 5G speed and an immersive Infinity-O display.
Like the Galaxy S21 5G, the Samsung S20 FE also has adaptive refresh rate with the option to set it anywhere between 48 and 120 Hz. Crank it up for competitive games and get the upper hand on your opponents with smooth precision.
At 6.5-inches, the Samsung S20 FE isn't a small phone by any means, but thanks to its in-screen fingerprint scanner, you can instantly access all your apps and files without any hassle.
There are plenty of colours to choose from too, making it the perfect phone to express your style.
Explore the Samsung Galaxy S20 FE here
Huawei P30 Lite New Edition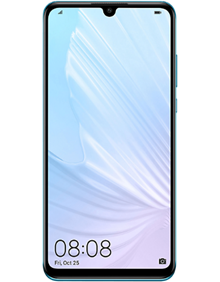 This phone is seriously impressive, and it's not even the flagship P30. Make no mistake - there's nothing lightweight about the P30 Lite.
If a quality camera is your go-to thing when choosing a new phone, the P30 Lite convincingly ticks that box. A 48MP lens captures glorious scenery in Ultra HD resolution and even has 2x optical zoom for detail at a distance. It's backed up by an Ultra Wide Angle lens with 120° field of view, so you can get everyone into group photos easily. The AI this phone uses is that clever, it detects what you're taking a photo of and switches the settings to match it.
Elsewhere, the P30 Lite has a better-than-Full HD 6.1-inch display, with only a tiny dewdrop at the top housing a brilliant 32MP selfie lens. So, it's great for diving into both box sets and catch-up video chats.
Whatever you use your phone for, this thing won't slow you down. It has an octa-core processor and 6 GB RAM to keep you multitasking with that responsive, 'second nature' feel. And with 256 GB of storage space, you've got room for an entire movie library right from the off.
Take a closer look at the Huawei P30 Lite New Edition here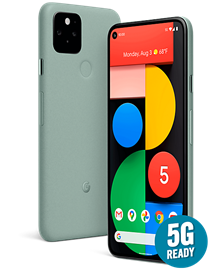 Want a phone that delivers the best of the Android experience to your fingertips? You're looking at it. The Google Pixel 5 is a powerhouse, running on Google's stripped-back iteration of Android 11.
With 8GB RAM and a Snapdragon 765G processor designed for 5G compatibility, this phone can handle high-octane gaming and extended browsing with total ease. And the battery is clever, too. It learns which apps you rely on the most and reduces power for the ones you use less. With that kind of AI help, it can go for up to 48 hours on a single charge. And it can reverse charge as well, which is handy for keeping your wireless earbuds powered up.  
The screen is pretty clever, too. It's a 6-inch OLED with pinpoint colour precision and detail, while adaptive refresh rate makes everything from scrolling to gaming feel super-smooth. Flip it around and you'll find a dual-lens camera consisting of a 12MP main lens and 16MP Ultra-Wide. But really, it's the software that makes the Pixel's camera a winner. Night Sight is available in Portrait Mode, so you'll easily get that profile picture first time, even in low light.
Check out the Google Pixel 5 in iD Mobile
After a brilliant midrange Android phone that can take on big apps and big cinematic scenes? With a 6.5-inch Super AMOLED screen and Exynos 9611 processor, the Galaxy A51 is a real contender.
The Infinity-O display makes sure that although the front camera is able to capture 32MP of bright, sharp detail, it keeps a low profile and uses barely any screen space. On the back, there's a quad camera fronted by a brilliant 48MP lens that captures the scene in ultra high res. And when you switch to the 123° Ultra-Wide lens, you can shoot sweeping landscapes and family photos like a pro.
There's bundles of space for your files, too. The A51 has a massive 128 GB of built-in storage to get you started. But if you do need more, the dual SIM slot will let you add another 512 GB by microSD. Put simply, you will never run out of room.
And you shouldn't run out of power all that often, either. The A51's 4000 mAh battery offers over 8 hours of continuous video playback, ideal if you're a fan of autoplay on YouTube and Netflix. When you do need to recharge, it'll support 15 W fast charging, so you'll be browsing and chatting again in no time.
Check out Samsung Galaxy A51 deals with iD Mobile