We've got some great suggestions for upgrading your security:
If you want to upgrade your home security, think about investing in smart tech. There are some really clever products that do an amazing job of keeping everything safe and secure - when you're fast asleep, at work, or even on holiday.
To help you get started, we've rounded up some of the best smart security systems we've seen lately.
See who's outside with CCTV
First of all, let's talk about CCTV. Those big and bulky beasts of the past are long gone. Now, you can get small and discreet outdoor security cameras that don't cost the earth.
Arlo Essential Spotlight cameras can be placed wherever you need them. You can cover a particular area like a garden fence or rear window, or you can invest in a few cameras and cover every inch of your surroundings.
You get super-sharp Full HD quality video and a wide field of view, along with features like motion detection, night vision, and a loud siren. Basically, all you need to make sure you're protected night and day.
Taking control of the camera is easy. It links to an app you can download onto your smartphone or laptop, so you can view what's going on from anywhere – even if you're not at home yourself.
See who's on your doorstep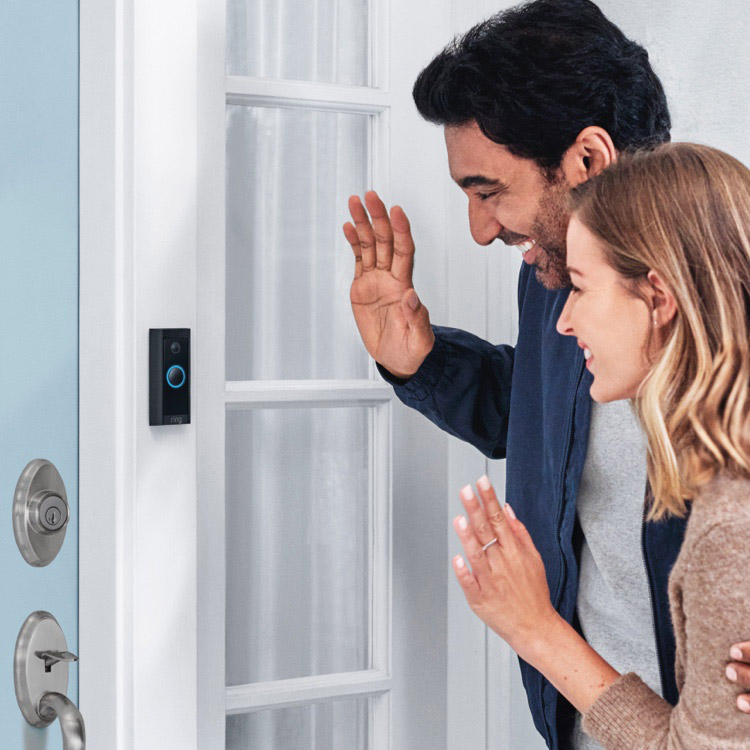 Ringing doorbells to find an empty house is a well-known trick used by burglars. The Ring Video Doorbell 4 solves that problem, by giving you the power to answer the front door using your smartphone – wherever you are.
You get a smartphone alert when someone rings the doorbell or triggers the motion sensor. You'll be able to see a wide-angle Full HD view of who's at the door, and speak to them directly. So you can warn off unwanted visitors, or tell that innocent delivery person where to put your package.
Check indoors when you're out
Okay, we've covered outdoors. So let's think about protecting inside of your home. Get an indoor security system like the Hive View Camera , and you can view what's going on using your smartphone. If you have an unexpected visitor you'll get a notification, and the camera will automatically start recording. And if you have pets, you can adjust the sensitivity so that the camera doesn't get triggered whenever your cat stretches.
When you go out at night, you'll leave a light or two on in the house to deter burglars – right?
Sorry, but – wrong. Budding burglars have been wise to that trick for years. That's why the Philips Hue Smart Lighting Starter Kit is great for home security.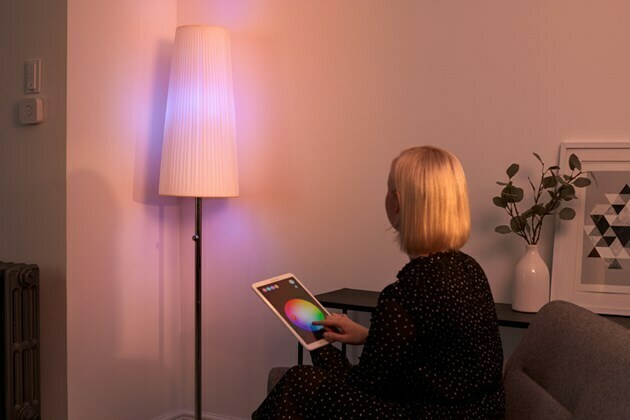 The Hue smartphone app lets you control your lighting from anywhere, and convince anyone walking past that someone's home. You can turn lights on and off, schedule them to come on at certain times, or (this one's our favourite) make them turn on if someone rings your smart doorbell.
Plug in for more smart security
Want to make your house look like it's full of busy activity when nobody's there? Then go for a smart plug (the Hive Active Plug a good one), and you can turn any plug socket into a smart power outlet.  You can then use the app on your smartphone to turn appliances like speakers, TVs and lamps off and on. Or simply schedule it all to happen automatically.
Take control when you're home
We've talked a lot about using apps to control your smart security when you're far from your house. But of course, you'll want to keep on top of security when you're at home too. The Google Nest Hub lets you do exactly that. You can connect all your other smart home security systems to it as long as they're compatible (most are), and control everything hands-free or with the large touchscreen.
Are you happy with your home security setup? Do you have any smart tech you'd like to recommend? Let us know below.