Subject says it all!
Best answer by Mohammed 4 February 2020, 15:18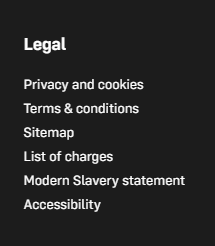 Hello @tonyfirshman, As per above, the screenshot shows where to find the Terms & Conditions.
It's found on almost every page at the bottom prior to checking out.
Upon checkout, you'll also be given the Terms & Conditions again.
I'm sorry that it's still difficult to find but do hope the picture above helps you locate this.
Mohammed
View original