Gone are the days when you had to appear on TV to be on a quiz show. With the free HQ Trivia app, you can win real cash prizes on your phone, without having to step out in front of a TV audience.
What is HQ Trivia?
HQ Trivia is an interactive game show that tests your pop culture and general knowledge. It goes live at 9PM every day, and 3PM on weekdays too.
You can win prizes of up to $2500 (it's American) by answering every question correctly. Every once in a while, the jackpot will be a lot higher. A special event on 11th April 2018 had a top prize of $300,000. And if that wasn't enough, it was co-hosted by Dwayne 'The Rock' Johnson.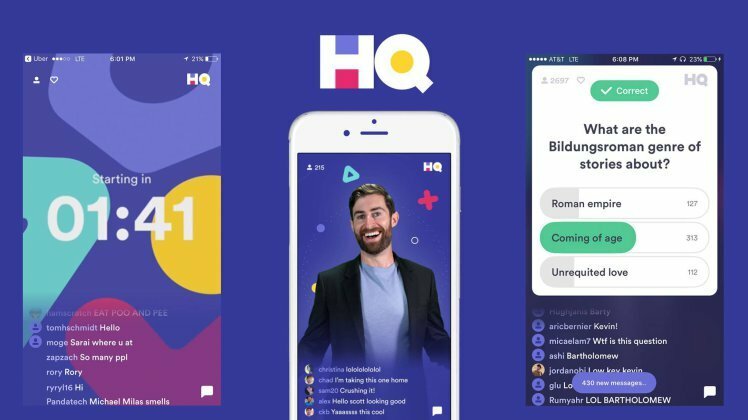 How does HQ Trivia work?
The game consists of 12 multiple choice trivia questions, and you've got just ten seconds to answer each question from choices A, B or C. Having just ten seconds to answer delivers an exciting sense of urgency AND stops any surreptitious Googling from taking place. Yes, we're afraid so – the questions have been designed to be non-Googlable within the 10-second timeframe.
Get an answer wrong and you're out the game. Answer correctly, and you get to move on to the next question. There's no better feeling than getting a savage question correct (these are the notoriously tough questions that loads of players get wrong) and seeing the number of fellow contestants drop right down.
If you're smart enough, and if more than one person makes it to the end, the prize is split. If everyone gets eliminated, the cash prize rolls over to the next day. Win over $20, and you'll be able to cash out directly to your PayPal account.
If you do get eliminated, you can still watch the game. You never know if any of the same questions will come up again, and it's a fun way to pass a few minutes, and to brush up on your general knowledge.
What did we like about HQ Trivia?
We all love winning things, especially when there's real money involved. There's no entry fee either. So, where does the money come from? Prizes are sponsored by app founder Intermedia Labs, Inc, so there's no element of gambling on your part. Phew.
We also love the game show style presentation. There's even a real-life host on hand to narrate events.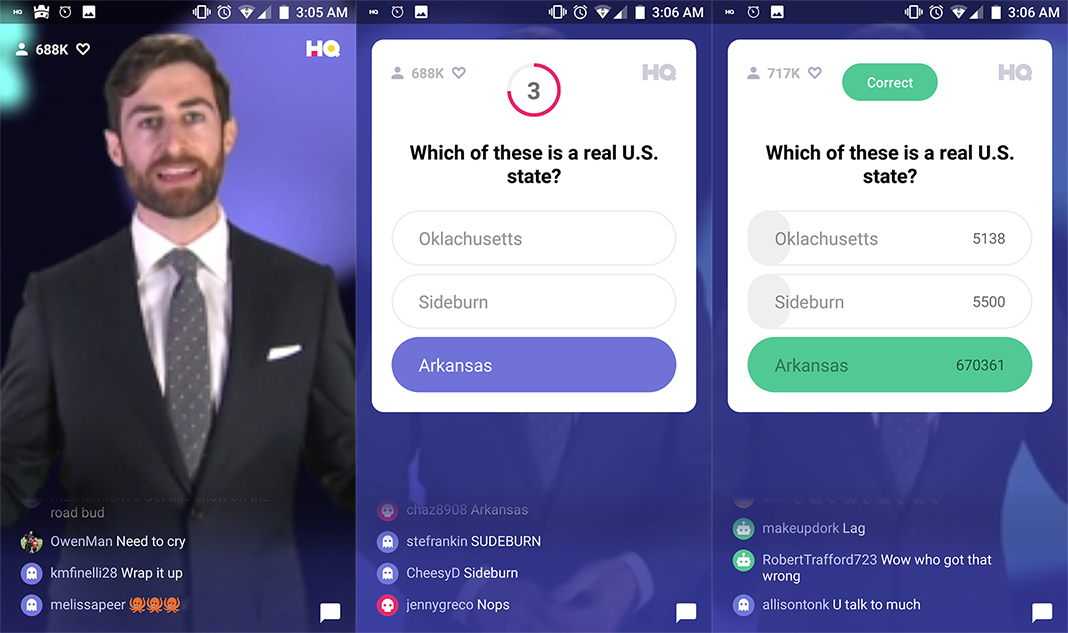 The question toughness ramps up as you go on, but it's not difficult enough to make you give up on the app altogether. Think 'Who Wants to be a Millionaire' difficulty, rather than 'University Challenge'. You always feel like next time might be your lucky day.
Our verdict on HQ Trivia…
HQ Trivia is a brilliant attempt to deliver an exciting quiz show experience on your smartphone. It's a well-thought-out idea, with real hosts, and a genuine sense of thrill while playing.
So, what are you waiting for? It's free to download from the
App Store (iOS)
and
Google Play (Android)
right now. Good luck!