If you've got an iD Mobile plan, you can buy add-ons. But what types of add-ons are available? How do they work? And why do you need them? Good questions. Let us explain, in our complete guide to add-ons.
Why would I need to buy an add-on?
Add-ons are a great way of giving yourself more minutes or data.
Hopefully, you'll be on an iD Mobile plan with enough allowances to get you by each month. But things can change. For example, if there's an unmissable new show out on Netflix and you can't help binge-watching it on your daily commute, that could eat up a lot of data. And if you think you'll run out before your monthly allowances will refresh, we'd recommend that you buy an add-on. Here's why…
Buying an add-on works out cheaper than racking up those dreaded out-of-plan charges. For example, a 100MB data add-on will only cost you £1.50. On the other hand, if you don't buy an add on, use up all your data, and then use an extra 100MB, you'll be charged £10.24. Quite a difference, right?
What add-ons can I buy?
Here's a table showing you all the add-ons you can buy.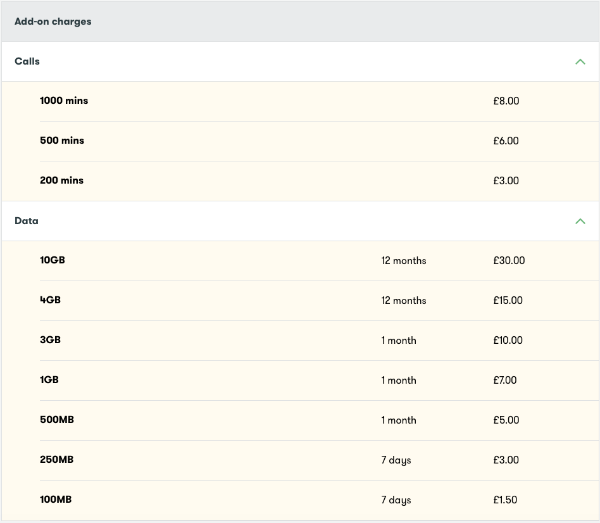 How do I buy a new add-on?
Log in to
your iD Mobile app or My Account online
, go to the 'Add-ons' page, click on the 'Buy' tab, and choose the add-on you want. That's all there is to it. You'll then see a confirmation screen with a receipt showing your purchase details.
If I buy an add-on, when does it get used?
Add-ons start beings used
after
your monthly allowance is used up. If you buy a data add-on, it gets used
after
your monthly data allowance and Data Rollover has been used up.
How long does an add-on last?
Add-ons can last 7 days, 30 days or 12 months, and they can run across different billing periods. You can see when yours is due to expire by going to the dashboard of your iD Mobile app or My Account online, and looking under 'Add-ons'.
Top tip
: try and buy your add-on just as you're about to run out of your allowance. You don't want it sitting around unused for days, especially if you buy a short 7-day one. A 7-day add-on will expire exactly 7 days after you bought it, and
not
7 days after it starts being used. Worth remembering, that.
I've already gone over my allowance. Can I cover it with an add-on?
If you go over your allowance, you'll be charged out-of-bundle rates until you buy your add-on. Your add-on can't be backdated or used to cover your past usage. It comes into effect when you buy it, and never before. But please don't let this put you off buying an add-on when you've gone over and above your limit. An add-on will still prevent you from racking up pesky out-of-bundle charges.
Do add-ons work abroad?
You can use add-ons in any of our
50 Inclusive Roaming destinations
.
If you're in another destination, sorry. Your add-ons won't work.
Where can I view my active add-ons?
You can view up to two active add-ons on your dashboard. To see
all
your active add-ons, go to the 'Active' tab of your 'My Add-Ons' page.
Not got the iD Mobile app or My Account online yet? Then let's get that sorted right now:
Get the iD Mobile app for your iPhone here
Get the iD Mobile app for your Android phone here
Have you got another question on add-ons that we didn't answer above? Then ask it below, and someone in the Community will have a crack at answering it.