AI, space tourism and cutting-edge consumer tech – it's all happening in 2021…
With much of the daily news focused on the covid-19 pandemic and the global response, you'd be forgiven for missing out on all the exciting developments that are happening right now in the world of technology. And there are quite a few.
In some cases, the global pandemic and varying stages of lockdown have meant that technological advancements have sped up rapidly. Businesses and institutions that were previously set in their ways are now a hive of digital collaboration and automation. Schools, offices and shops have adapted to a changing world with the help of amazing tech, and artificial intelligence is getting even smarter. The present is looking ever more futuristic!
Even the world of consumer tech is unrecognisable compared to just a few years ago. So, what's new?
Amazon and Virgin CEOs Blast Off Into Space:
We'll start big. Space tourism has been a long-held dream for many, and it looks like we've moved a little closer to it becoming a reality! In July, Virgin founder Richard Branson and Amazon chief Jeff Bezos made history by joining only a handful of non-astronauts to have taken a trip above the atmosphere. Branson's Virgin Galactic project has been developed over the past 17 years, while Bezos' Blue Origin was founded way back in 2000.
Both space flights launched from the US within days of each other, with Bezos' flight taking just 11 minutes between launch and landing, and Branson's around 90 minutes. While we're still in the very early days of commercial space flight, what we do know is that both Virgin Galactic and Blue Origin travel 66 miles above the surface of the earth, and are expected to charge between $200,000 and $250,000 for the once-in-a-lifetime trip. So start saving now!
Apple's Self-driving Car:
We may not be there just yet, but automated vehicles will likely transform how we get from A to B forever. And Apple are set to be at the heart of it.
It's no secret that the guys behind the iPhone, iPod and MacBook have been developing the idea. They first started exploring the concept in 2014, hiring over 1000 car experts and engineers to design an electric car. In December last year, it was confirmed Apple are still very much working on it, and aim to release a vehicle in three to six years' time.
What we do know is that Apple will work with a manufacturing partner to produce the cars. The plan is to make a car that allows the 'driver' to enter their destination and get there with barely any engagement. They're also developing a new battery for the car that uses less space and has a much greater range. We can't wait to see what they come up with.
If you're a gamer, you probably miss that feeling of being able to buy a game and dive straight in without the lengthy install process. Some games these days can take as much as half a day to install! There is a solution though, and it's online.
Cloud gaming means that once again, you can play right away. Instead of installing the game directly to your console or PC and using up tons of storage, games are run on a remote server and then streamed to your device as a video. And as connectivity improves, cloud gaming will get better. Faster internet will mean better games, better graphics and faster response times. What's not to love?
It's been around for a little while, with the likes of Xbox Game Pass, PlayStation Now and Google Stadia developing the concept. But it's growing. Fast. In 2020, almost as many people signed up to a cloud gaming service as they did to Netflix. And speaking of Netflix, we're hearing news that they're looking to get into the cloud gaming realm too. Watch this space.
What about mobile phones?
We're still very much in the early days of 5G connectivity, but it's amazing to see it already setting new standards.  It means faster downloads, faster loading times, consistent signal in high traffic areas. Even away from phones, 5G is changing the way we work, play and interact.
Now, no matter what your budget, you can treat yourself to 5G speeds. We've seen phones like the OPPO A54 and Samsung Galaxy A22 offer extreme speed and connectivity at a very affordable price, and we expect phones to double down on that trend. Soon, we'll all be making HD calls, downloading 4K movies in seconds and gaming like pros on the go. The future is 5G!
We've mentioned refresh rates before – it means how frequently your phone screen flashes every second. The more frequent, the smoother everything looks. While most smartphones from just two years ago supported a refresh rate of around 60hz, now, we're seeing screens that go up to 90hz, 120hz and even beyond.
Phones like the Samsung S21 range and Sony Xperia 5 can adjust all the way to a super smooth 120hz, and it's looking like that feature is starting to arrive on more budget friendly phones, too. Mobile gaming is about to level up.
The iPhone 12 Pro turned heads when it was announced, and that's because it had one thing that no other smartphone has ever had before – a LiDAR sensor. What this does is shine beams of infrared light that bounce off of surfaces to create a 3D map. In fact, it's the tech that's being used to develop the self-driving car, but it also works a treat with smartphone cameras.
By creating a 3D map of the scene you're shooting, your phone works out where objects are in relation to each other to create a much more realistic photo. While it's currently only available on the iPhone 12 Pro and iPhone 12 Pro Max, we expect to see Android phones using this technology in the not too distant future. Your camera roll never looked so good.
We've shared what we think are the biggest tech developments over the past few months, and now we want to hear from you!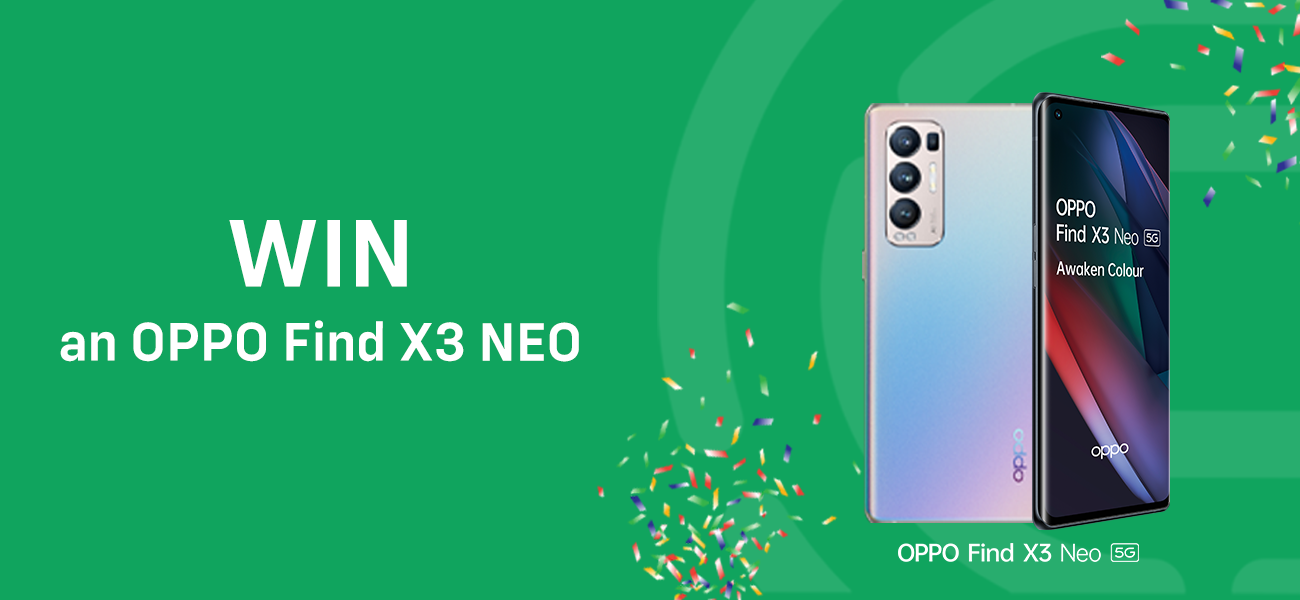 What technological advancements or pieces of tech have you seen, heard about or purchased that's got you excited? Let us know below for a chance to win the incredible OPPO Find X3 NEO.
Standard competition T&Cs apply.
Competition closes 21st September 2021. 
Best of luck!
As always a huge thank you to everyone who took part in this awesome competition celebrating the introduction of a new topic on the Community. We cannot wait to continue sharing the latest advancements in mobile and tech and discover what you are all interested in and have your eyes on!
Now! enough about that. Back to the competition!
Please join me in congratulating @Prologica ! You are the winner of a brand new Oppo Find X3 Neo!
Who will win our next competition? Only time will tell, check out our 50K members article on the homepage to enter our new competition. 
Thanks for entering :D